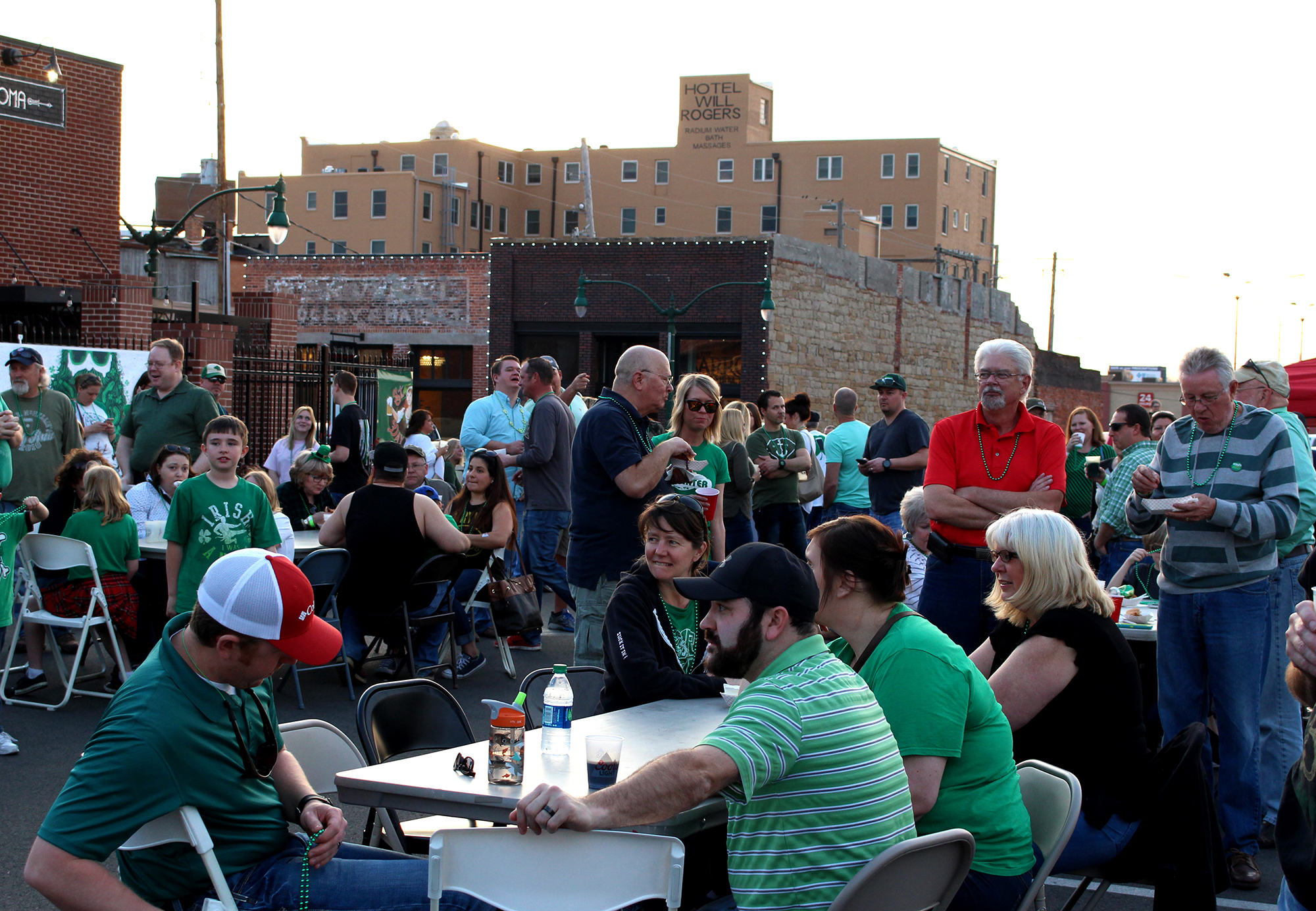 Teaming up for the best St. Paddy's Day Claremore has ever seen, the annual St. Paddy's Day Party is a city-wide event with two locations simultaneously hosting the all-day affair.
Beginning at noon and continuing through 10 p.m. on St. Patrick's Day itself — March 17 – the Party will be at J. Farley's Pub, 609 S. Brady St., and Main Street Tavern, 116 N. Missouri Ave.
The Party is presented by Pixley Lumber. Admission is free and open to the public of all ages. ID is required to purchase and consume alcohol, however.
To get from one pub to the next, a free Party Bus sponsored by Titan Homes will leave from J. Farley's every hour on the hour and the Main Street Tavern on the half hour.
In between, the Party Bus will stop at Ne-Mar Center, where free parking is available. The Party Bus will run from 4 p.m. until 10:30 p.m.
At either party stop, grab a free St. Paddy's Day Party Passport sponsored by Certified Source Staffing Professionals. Collect all six stamps by visiting both pubs and Claremore Main Street booths and ordering specialty drinks. A full passport is good for a half-off appetizer at either place.
Those feeling the luck of the Irish can also purchase raffle tickets now through the night of the event at the Claremore Main Street office, 419 W. Will Rogers Blvd., at J. Farley's or at the Main Street Tavern.
Three baskets will be raffled off on the night of the Party, but those participating do not have to be present to win. Raffle tickets are $1 and proceeds go to benefit Claremore Main Street, a nonprofit organization.
Claremore Main Street also will be selling t-shirts and party cups sponsored by Right Choice Roofing.
Performing at J. Farley's will be the Tulsa Pipes & Drums from 12:30 to 2:30 p.m., Frank Smrekar 3:00 to 4:30 p.m., Casper McCade from 5:00 to 7:00 p.m. and closing out the event will be Timothy O'Brian's Celtic Cheer.
On the Reed Custom Homes Stage at the Main Street Tavern, the Goode Academy of Irish Dancers will wow the crowd beginning at 6 p.m., Timothy O'Brian's Celtic Cheer will perform from 7 to 8 p.m. and capping off the night the Vintage Wildflowers will play from 8 p.m. until 10 p.m.
Claremore Main Street also hosts the Bangers & Mash Lunch from 11 a.m. to 1 p.m. on March 15 at the Claremore Daily Progress parking lot, 315 W. Will Rogers Blvd. For more details on the lunch, visit downtownclaremore.org.
Anyone who is interested in volunteering at either of the events should contact Fitts at or 918-341-5881.
Claremore Main Street is a nonprofit organization dedicated to the ongoing revitalization of historic downtown Claremore. With a focus on economic vitality, historic preservation and placemaking, the organization strives to secure downtown as the social and economic core of the community.