Leading Ladies Expo is scheduled for October 12, 2017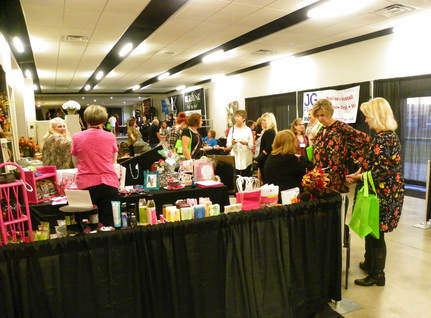 Bring your best girlfriends and join us for an evening of celebrating women in business and our community! Leading Ladies Expo is new and improved for 2017 and is focused on building stronger networking and to encourage personal and professional growth. There will be shopping, seminars, giveaways and Leading Ladies Awards!
For more information on the event, read the full news release here or join the conversation on Facebook.

nominations are now closed. Winners have been selected.
Seven Claremore women have been recognized as a winner for the 3rd annual Leading Ladies Awards and will be presented with a special plaque and custom Rustic Cuff at the Leading Ladies Expo on Oct. 12.
The Leading Ladies Expo is hosted from 5 p.m. to 9 p.m. at the Claremore Conference Center at 1400 Country Club Drive. It features shopping, massages, hors d'oeuvres from local restaurants, wine samples, a health seminar by presenting sponsor Hillcrest Hospital, a selfie station, hand massages and a lot of great door prizes in addition to the awards.
"We were blown away with the number of women nominated for the seven categories this year," said Jessica Jackson, director of Claremore Main Street, one of the event's hosts. "We are excited to get the opportunity to announce the winners in advance this year. These awards, which honor the deserving Rogers County women, are my favorite part about this event."
Winners were selected by an out-of-county panel. The winners are:
Rising Star – Caitlyn Campbell, RSU Student and Volunteers for Youth volunteer
Behind the Scenes – Kim Prock, Thrift Harbor District Manager
Business Leadership – Sarah Fiegener, Rye Design Owner and Musician's Haven Director
Community Supporter – Cindy Bissett, Claremore Main Street retired Director and volunteer, Chamber of Commerce volunteer
Leader in Health – Dava Baldridge, Chief Nursing Officer at Hillcrest Claremore
Nonprofit Leadership – Lisa Saylor, Mercy Chefs Director
Leading Lady of the Year – Jill Ferenc, City Planner
The awards will be presented at 7:45 p.m. by KOTV News on 6's LeAnne Taylor, a local news anchor and breast cancer survivor. The winners were announced live on the Facebook event on Sept. 28.