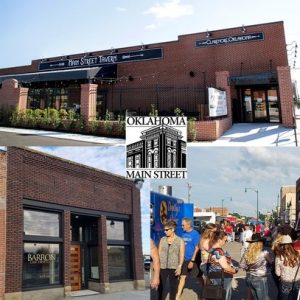 With all the new developments in downtown Claremore in the last few years, it's no wonder downtown Claremore businesses and events are receiving statewide recognition.
Claremore has the chance to bring home state awards in four categories after being announced as a Top 3 finalist by the Oklahoma Main Street Center last month.
Food Truck Thursday is a finalist in Premier Special Event Under 1,000 Attendees, while Barron Law Firm is in the Top 3 for Best Façade Rehabilitation Under $10,000. Main Street Tavern is up for two awards – Best Façade Rehabilitation Over $10,000 and Best Adaptive Reuse Project.
The winners will be announced at the 28th annual Main Street Awards Banquet on May 9 in Oklahoma City. Sixteen representatives from Claremore will attend the banquet.
Hundreds of nominations are submitted in all the categories across the state each year, and 19 communities are represented with a Top 3 project.
At the banquet, Claremore Main Street will also be recognized for its Crowning Achievement: Being named to the National Register of Historic Places. Further, Ray Brown will be honored at Claremore Main Street's Board Member of the Year.
"We are honored to be recognized for some of the recent rehabilitation projects and for downtown's newest event series. We have four good chances to bring home a first-place prize," said Jessica Jackson, Claremore Main Street Director. "I love to see private reinvestment and countless volunteer hours rewarded with these honors."
In 2016, Food Truck Thursday entered its second season in downtown Claremore. The seasonal, monthly event features live music, late shopping, food trucks, a kids zone and a special theme in the evening of the final Thursday of the month from May to October.
The series really came into its own in the second season and saw a significant increase in attendance, averaging about 800 guests per month.
The event continues to grow this year. It will kick off with Boots on the Boulevard at 6 p.m. May 25. It is cohosted by the Downtown Merchants Association and Claremore Main Street.
Brother and sister duo Robert Melton and Amy Gordon won Best Façade Rehabilitation Under $10,000 in 2016 for North Block Common at 115 N. Missouri Ave. Right next door, they are up for the same award this year for Barron Law Firm at 117 N. Missouri Ave.
The work included striping the gray paint over the bricks, replacing window on the front and installing a new door. The building was enhanced to become more inviting and showcase the historic features of the building.
The façade upgrade helps extend the historic look and feel of downtown Claremore on block north of the traditional main street of Will Rogers Boulevard.
Also earning recognition for visual impact is Main Street Tavern, just across the street at 116 N. Missouri Ave., as its up for Best Façade Rehabilitation Over $10,000 and Best Adaptive Reuse Project.
Previously serving as the Senior Citizens Center, MST Claremore owner Jason Scarpa and business partner Mike Kennedy transformed the outdated city building into a beautiful restaurant that fills a much-needed void in downtown Claremore. Chris White served as the architectural designer.
Nearly a half million dollars went into the façade and exterior updates — including a new roof, brick covering removal, new windows and doors and a patio – while significantly more was spent on the entire rehabilitation project to gut the building and create an elegant kitchen, bar and dining space.
Since opening in September, MST Claremore has become one of the hot spots in town as a fine dining eatery and bar. Downtown now has a place to gather and watch sports or enjoy dinner on a patio, something lacking prior to the Tavern's opening.