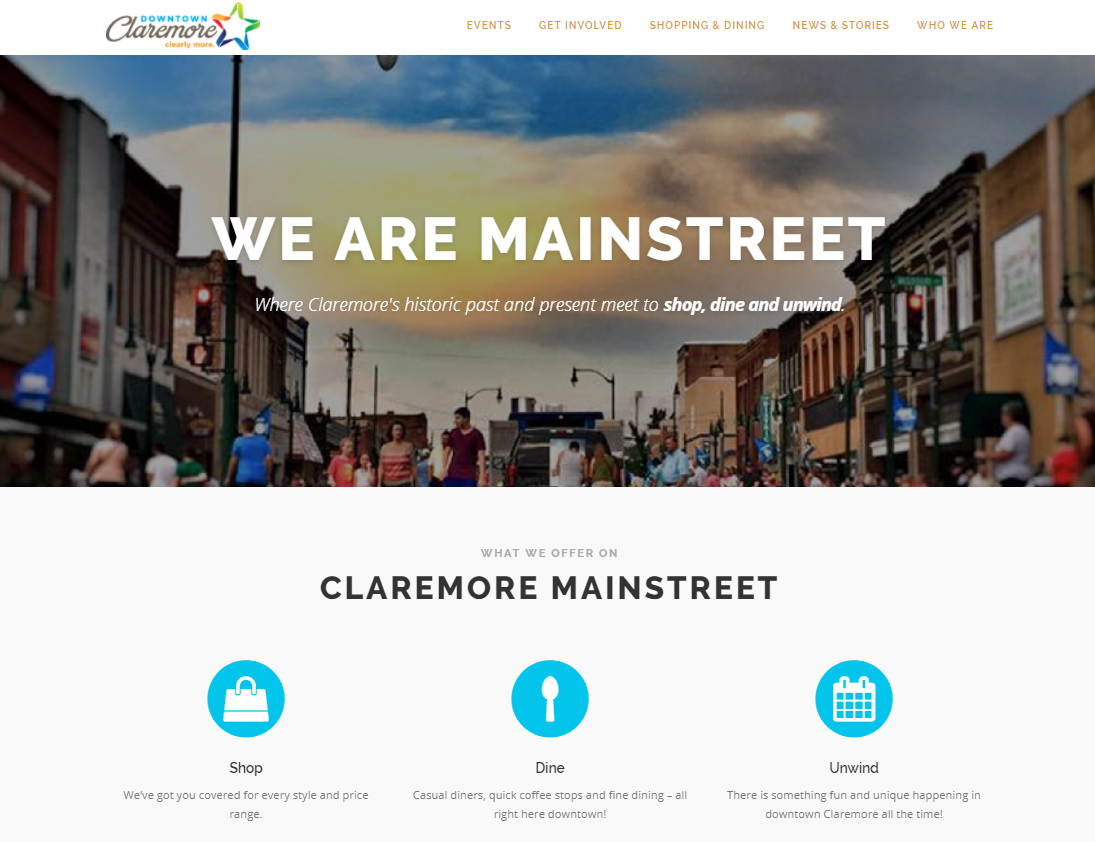 Claremore Main Street went live with a new website on Monday that makes finding information about downtown Claremore's shops, events and organizational details easier.
Maintaining the URL of downtownclaremore.org, the new site's enhanced design and flow serves customers and businesses better than ever. Additionally, it's completely mobile-friendly.
"We are really excited about the website launch," said Jessica Jackson, director of Claremore Main Street. "Through the site, we can show off everything that is important to Main Street – our businesses, events and organization's impact and value – in one easy place."
The website features all of Claremore Main Street's major events, listings for retail and dining in the area and a complete list of downtown news releases.
Access to nearly all that information is available on the front page alone, but the site has a five-item menu for additional navigation.
The front page also showcases Main Street's reinvestment figures on dollars spent revitalizing downtown, number of businesses and jobs created and volunteer hours donated since the 501(c)3 nonprofit organization was established in 2002.
New on the site is a calendar that includes details on activities like Cash Mob, application deadlines and holiday office closings. It will provide another place for partner businesses to house their events as well.
Those interested in volunteering can now fill out a simple volunteer application form, stating contact information and areas of interest.
Nearly brand new is an entire "Who Are We" section, which houses information about Claremore Main Street, a list of members of the Board of Directors as well as agenda and minutes, details on Member Services available to downtown businesses and partners and a page with information on meeting spaces, residential lofts and available properties.
The site was built by Columba Collaborative, a Claremore-based website design and content marketing business. Columba Collaborative is a Main Street Partner.
"Katie Sauvageau at Columba Collaborative has been wonderful to work with," Jackson said. "She took our vision and developed a dynamic site that's both functional and attractive. We couldn't be happier with the outcome."
Claremore Main Street is dedicated to its mission to enrich downtown Claremore by promoting a healthy downtown economy and advocating for revitalization and historic preservation.