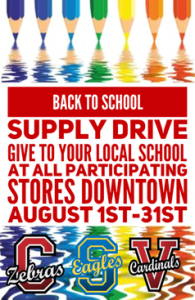 Several downtown Claremore businesses have teamed up and are hosting a school supply drive to help ease the transition back to school for many.
Shoppers can donate school supplies to Claremore, Sequoyah or Verdigris schools at any of the 11 participating downtown stores through Aug. 31 – Food Truck Thursday's School Daze event. Many stores offer discounts in exchange for a donation.
The donations will be taken to the schools to be distributed as necessary, particularly to those families most in need of help.
"This is our way of giving back to the community that supports our local, small businesses," said Sheila Giannelli, owner of Vintique Charm & Boutique, 512 W. Will Rogers Blvd. "The schools need a little extra right now. Most of us are parents, and we get it. We just want what's best for the children."
Giannelli is the president of the Downtown Claremore Merchants Association, an organization of committed downtown business owners who work to improve foot traffic and economic vitality downtown. The association is hosting the drive.
Participating stores are: The Burlap Closet, The Cozy Cottage, The District on Main, Dorothy's Flowers, Frosted Artisan Cake Studio, The Grapevine, LoliPop: A Sweet Boutique, Outwest Home Décor, Sailor Antiques & Collectibles, Vintique Charm and Willow Tree Mall.
Additionally, Crystal Pistols Boutique/Mom & Pops Ceramic Shoppe & More will be collecting school supplies for Justus-Tiawah Schools all month long.
Rhapsody Boutique & Spa has special discounts depending on the item donated at their store. They are collecting for Claremore's Claremont Elementary School through Aug. 15. On Saturday during Tax Free Weekend, Rhapsody hosted free back-to-school haircuts.
The final day to donate to the school supply drive will coincide with Food Truck Thursday's School Daze. The outdoor event features live music, a free Kids Zone by Cedar Point Church, late shopping, more than 15 food trucks and a ton of fun. It runs from 6-9 p.m. Aug. 31 in downtown Claremore.