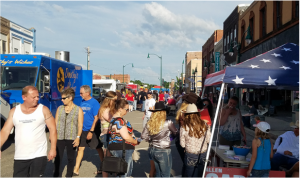 Break out your hula skirts, Hawaiian shirts and leis for this month's Food Truck Thursday, a Downtown Luau on June 23.
The Luau, set in downtown Claremore from 6-9 p.m., will feature live music from Bethany Grace & Gypsy Soul, a bunch of delicious food trucks, a hula hoop contest, a Kids Zone by First United Methodist Church and a shopping giveaway.
"The Downtown Hoedown was such a success last month, we are excited to bring the Downtown Luau to Claremore," said Jessica Jackson, director of Claremore Main Street, one of the partners hosting the monthly event. "The themes are really fun this year and just enhance the already-enjoyable Food Truck Thursday nights in downtown Claremore."
In addition to the late shopping, visitors will have the opportunity to Find Frankie the Flamingo at participating stores, indicated by a pink flamingo on the outside of the store.
Frankie the Flamingo will be hidden on a card in the store, and when a shopper finds her, they can enter to win a gift basket valued at $300. In addition, every $10 spent at a participating store earns another spot in the drawing.
Finally, those dressed in Hawaiian-themed clothing can get an entry into the drawing as well.
"We thought the Find the Flamingo would be a fun way to add something new to our Food Truck Thursday event in June and encourage people to explore all the wonderful shops we have downtown," said Carol Thibodeau, owner of Rhapsody Boutique & Spa, 106 S. Cherokee Ave., and the Food Truck Thursday committee chairwoman.
"You will not want to miss the awesome gift basket with goodies generously donated by the downtown stores," she added.
A hula hoop contest will take place near the stage at 6:30, 7:30 and 8:30 p.m. Prizes will be awarded to the winners of the contests.
Twelve food trucks are scheduled to attend, giving guests a variety of cuisine and desserts. Food trucks include Meltdown Gourmet Grilled Cheese, Dorothy's Wiches, MooChewSooey BBQ, Cake Smash, 2 Chefs on Wheels, Creole Catering, Taqueria El Jarocho, Kona Ice, Papos Latin/American Café, Dog House, Jen's Java and Maw & Paw Kettle Corn.
Claremore's First United Methodist Church will sponsor a Kids Zone, fitting with the Luau theme.
Boarding House Books, 300 W. Will Rogers Blvd., will host area authors for book signings at their store, including Gloria Teague, Bob Avey, Jonita Mullins and Cynda Thomas.
Many of the downtown stores, which will stay open until 9 p.m., will feature discounts throughout the evening.
Each month has a different theme. Rogers County residents can enjoy the Downtown Carnival on July 28, CLUE in Downtown Claremore on Aug. 25, I Art Claremore – Downtown Chalk Walk on Sept. 29 and Downtown Zombie Infestation on Oct. 27.