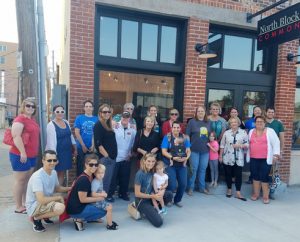 The bimonthly Cash Mob is the perfect excuse for Claremore shoppers to spend money downtown, take home fabulous items and help out a local nonprofit – and they got their money's worth in October.
The "mobbing" is where a collection of local supporters assemble for a small gathering prior to going out and shopping at a downtown store chosen at random the night of the event. Normally, 10 percent of the proceeds go to a local nonprofit chosen by the shoppers themselves.
But in October, the mobbers took over Thrift Harbor, 316 W. Will Rogers Blvd. Since Thrift Harbor supports Hope Harbor Children's Home, the managers agreed to send 100 percent of the night's proceeds on to Hope Harbor.
Shoppers, undeterred by the discounted prices at the thrift store, spend more than $700 in about an hour. The mob was sponsored by moreclaremore.com.
"It generated a lot of excitement in the store, and we were excited to be chosen," said Mary Baumgardner, volunteer coordinator for Thrift Harbor. "It was fun to see a lot of new faces in the store. We appreciate the funds that were raised."
The vision for Hope Harbor began in 1947 as the Turley Children's Home. The mission is to serve at-risk youth and their families. Boys and girls in the program live at different cottages, attend school and receive counseling all on the Hope Harbor campus. Additionally, parents receive training and support to strengthen and stabilize the home environment.
Participants in the Cash Mob agree to attend every other month and spend at minimum $20 at the store chosen at random the night of the event. The goal is to encourage shopping local and the downtown businesses' success and to support local nonprofits.
"I was encouraged to see so many different people participating," Baumgardner said. "Not only are they helping the nonprofits through this but it's helping the downtown too because it gives them the exposure to the downtown stores."
Additionally, participants are invited to a special VIP gathering prior to the start of the mob. In October, Arri'bin Hills Winery gave out wine samples and Claremore Chiropractic did free assessments.
Cash Mob is every other month on the first Tuesday of the month. Pre-registration is necessary because the starting location changes each month. Register online at http://bit.ly/CashMob1516, and we will email the location out a week prior.
The next Cash Mob is scheduled for Dec. 6. The selected store will be drawn at 5:30 p.m. Kevin Fortna, CPA, is the mob's sponsor.