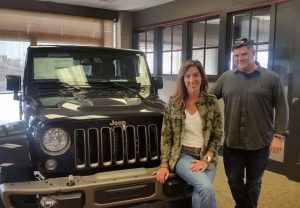 Robert Melton II and Amy Gordon grew up in the car sales business.
As fourth-generation Meltons, Rob and Amy remember summers pulling weeds along the sidewalk near their father's car lot in downtown Claremore.
Today, the brother and sister duo work together, along with five other family members, to run the now 70-year-old company, Melton Sales, 200 N. Lynn Riggs Blvd.
Rob and Amy work closely with each another and well with their father, uncle and cousins to run, each bringing a separate strength to the table.
Rob, the general manager, said his parents actually discouraged them from joining the family business. After attending the University of Arkansas, he started leaning toward working in poultry sales in the state.
"I realized it was either selling chickens or selling cars, and I had the fuel in my blood," he explained. "I didn't realize it until being away, and probably if my parents had pushed me to do this, I would not be here."
Amy, however, said she always knew she would come back. After a few years in fashion merchandising post-college, she returned and is now the operations manager.
In the late 1990s, the Internet began to revolutionize the way car sales worked, and Melton Sales was at the cutting edge of it as one of the first five dealers to put its inventory online. In fact, it was the first to list prices.
"It blew people's minds," Amy said.
Listing at a lower cost than many competitors, Melton Sales began selling all over the country through the internet. While those sales still come in, Rob and Amy have since refocused back to their roots here in Rogers County.
"We want to be able to serve the people that are here locally," Amy said. "Our goal is to sell to the Green Country community and Claremore."
In addition to selling new and used vehicles, the company provides full service maintenance and repairs on all makes and models. Additionally, Melton Xpress Lube is open six day a week with no appointment necessary.
Tires and auto accessories are also available at Melton. In April, the business is running a "Buy 3, Get 1 Free" deal on tires.
While the car sales business isn't without its hardships, Amy said there is nothing like the buzz of a busy showroom to keep her spirits up and the love for her job intact.
"There's nothing like the highs," she said.