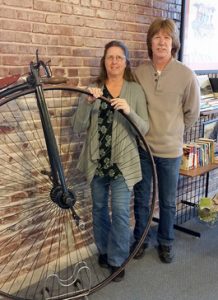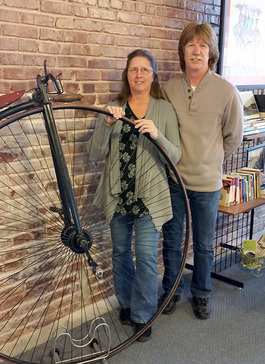 Janice Whittaker caught the cycling bug in the mid-1990s. Five years later, her husband, Tracy, joined her in her obsession.
Another six years went by; the couple's hobby also became their financial investment when they opened their own bike store in downtown Claremore.
Bike-About Bicycles, 300 W. Will Rogers Blvd., is a full service bicycle repair shop and retail store that repairs and supports all makes and models. It's also a local center for riding gear, accessories and clothes or a bicycle upgrade.
It all started when Janice was approaching the big 4-0. Her sedentary life was catching up with her when she went to watch her active sister complete Ride the Rockies, a 450-mile, week-long ride through Colorado.
"I was expecting … all these jocks, and in came every size and shape person you can imagine, every age bracket," Janice explained. "Then I totally lost my mind and told my sister I'd do Ride the Rockies with her the next year. I didn't even have a bike at the time."
She trained hard for the following year and was able to not only finish the ride, but also enjoy herself along the way. She began doing similar long rides when Tracy decided to join in the fun.
"I was off having all these adventures without him … so he joined me with cycling," she said. "And so the adventures just continue."
The passion gives both an opportunity to explore the world and get some exercise along the way. The couple has ridden in Denmark, Sweden, Ireland, France, New York, Michigan, Arizona and Portland, Ore., to name a few.
"It's the ultimate way to explore, not just the United States, but other countries, too. You see places you'd never see," Janice said.
"It's good exercise," Tracy added. "That's one of the other reasons for getting into it."
In 1996, the Whittaker's decided to use some investment money to buy a building in downtown Claremore and open their bike shop.
"And as they say, the rest is history," Janice said.
It took a while to remodel the building to bring it back to a more original look, Tracy said.
"We did all of the remodel," he said. "There were interior walls and a drop ceiling. There was basically a room inside of this room, and we pulled all that out."
Now when shoppers walk in, they're greeted with original tin ceilings and the rustic brick walls. The historic look complements the modern cycling equipment for the perfect combination of old and new.
The store opened in May of 2007 and quickly became a hub for cyclists in the area. Not only does Bike-About co-host the Dickens of a Ride each October with Claremore Main Street, the store also hosts a twice-a-week riding group.
Anyone is welcome to join the cycling group, which meets each Tuesday and Thursday evening during Daylight Savings time. All ride levels are encouraged to join the ride and comradery.
Janice and Tracy said they are excited to see one of their former rides, the Oklahoma Freewill, scheduled to come through town in June. The 460-mile ride will have an overnight stopping point in Claremore, bringing hundreds of riders through our town, on June 24.