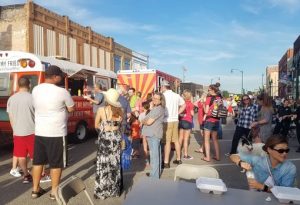 Rogers County residents can skip the summer trip the beach as Food Truck Thursday brings the vacation to Claremore on June 29 for the Downtown Luau.
The evening event will run from 6-9 p.m. and will feature the band DocFell & Co. playing music in the 500 block, more than 15 food trucks, late shopping, two hula hoop contests, a dunk tank with a chance to dunk the mayor and a free Kids Zone by Cedar Point Church presenting Moana live in Claremore along with several other activities.
Food Truck Thursday is always free and open to the public, but food and some activities do cost.
"Downtown Luau is going to be a great opportunity for Rogers County to come out and enjoy an evening in downtown Claremore, listening to fun music, shopping, eating and even taking a crack at dunking the mayor!" said Kathy Glover, president of the Merchant's Association and owner of the Cozy Cottage, 514 W. Will Rogers Blvd.
City of Claremore personnel will take turns in the dunk tank from 7-9 p.m. Five dollars gives a contestant three shots at the person in the tank. Mayor Bill Flanagan, Fire Chief Sean Douglas, Deputy City Manager Jeri Koehler and City Councilors Jeff Godwin and Justin Michael will each take a seat in the tank. A full schedule is available here.
Two hula hoop contests will give all ages a chance to show off their skills. The contests will begin at 7:15 p.m. and 8:15 p.m. in the 500 block near the band.
Food trucks include Alpha Grill Food Truck, ​BackWatters BBQ, The Bacon Food Truck, ​Breezie's Pretzels, Curbside Comfort, ​C&J Concessions, For the Love of Fries, Jen's Java, ​Kona Ice, La Hermosa Taco Truck, ​Maw & Paw Kettle Corn, MooChewSooey BBQ, Not Your Grandma's Cupcakes, ​Pot Lickers, Ropin Flamingo Italian Ice, Taqueria El Jarocho and ​Tiger Bite.
The Kids Zone by Cedar Point Church is completely free to attendees, but parents are asked to watch their children while they enjoy the games and fun activities. There will be a bounce house, fishing for toddlers, free juice and popsicles, flamingo ring toss and temporary tattoos. But the biggest draw may be Moana!
"We have so much packed into just three blocks — and three hours — this month for Food Truck Thursday, it's a don't-miss event for sure," said Jessica Jackson, director of Claremore Main Street. "We're excited to have everyone out having a great time in downtown Claremore."
Food Truck Thursday will run monthly on the final Thursday of the month. Upcoming dates are July 27, August 31, September 28 and October 26.
The monthly event is hosted by the Downtown Merchants Association and Claremore Main Street, a nonprofit organization dedicated to the revitalization of the downtown district and reigniting the area as the social core of our community.
Food vendors interested in participating anytime this season should e-mail Jeannie Smith at ftt.foodvendors@yahoo.com while nonfood vendors who would like to set up a booth should email Sheila Giannelli at fttnonfoodvendors@yahoo.com.