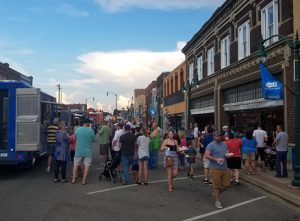 Downtown Claremore's Food Truck Thursday this month offers an opportunity for residents to decorate the streets with beautiful pieces of chalk art during the first I Art Claremore – Downtown Chalk Walk.
The monthly event, set in downtown Claremore from 6-9 p.m., features local band The Aviators, a magic show by Spotlight Magic, a free Kids Zone by First United Methodist Church, more than 10 food trucks and late-night shopping deals.
The Downtown Chalk Walk is an informal artist showcase. Artists and amateurs alike can create their masterpieces in 3-foot-by-3-foot squares in the 300 block of Will Rogers Boulevard in the Kids Zone area. The Chalk Walk is not exclusive to children, however, and teens and adults are encouraged to participate.
The drawings will be put in an album on Friday on the Claremore Main Street's Facebook page
​"I Art Claremore – Downtown Chalk Walk is a neat addition to this month's Food Truck Thursday," said Jessica Jackson, Claremore Main Street's director. "It's a chance for everyone to put their mark on our city."
​Spotlight Magic will offer a free magic show from 7-7:30 p.m. at the stage in between sets by The Aviators.
The Kids Zone is completely free to attendees, but parents are asked to watch their children while they enjoy the bounce houses and fun activities.
Boarding House Books, 300 W. Will Rogers Blvd., will feature a book signing by local authors Monica Withers, Valerie Knapp, Jane Rogers, Debbie Noble and Mary Coley.
This month, the event features a few new food trucks, brought in to provide more variety and potentially shorter food lines.
"We want to continue to evolve and improve our event," said Carol Thibodeau, the event committee chairwoman and owner of Rhapsody Boutique & Spa, 318 W. will Rogers Blvd. "While the favorites are back again, we invited some new trucks to keep things fresh for our guests."
Twelve food trucks are scheduled to attend, giving guests a variety of cuisine and desserts. Food trucks include Meltdown Gourmet Grilled Cheese, Dorothy's Wiches, MooChewSooey BBQ, Taqueria El Jarocho, Papos Latin/American Cafe, Curbside Comfort, Jeremiah's A Cafe of Hope, Kona Ice, Tacos Maranatha, Wild Al's, Maw & Paw Kettle Corn and Jen's Java.
In addition to Food Truck Thursday's events on Will Rogers Boulevard, Light of Hope will host a free outdoor movie, Pixar's Cars, beginning at 8 p.m. in the Rogers County Courthouse Parking Lot.
Light of Hope is a nonprofit ministry outreach focused on assisting individuals and families faced with struggles of addition or life difficulities.
There is one other Food Truck Thursday remaining this season. Rogers County residents can enjoy the final one, Downtown Zombie Infestation, on Oct. 27.
The monthly event is hosted by the Downtown Merchants Group and Claremore Main Street, a nonprofit organization dedicated to the revitalization of the downtown district and reigniting the area as the social core of our community.