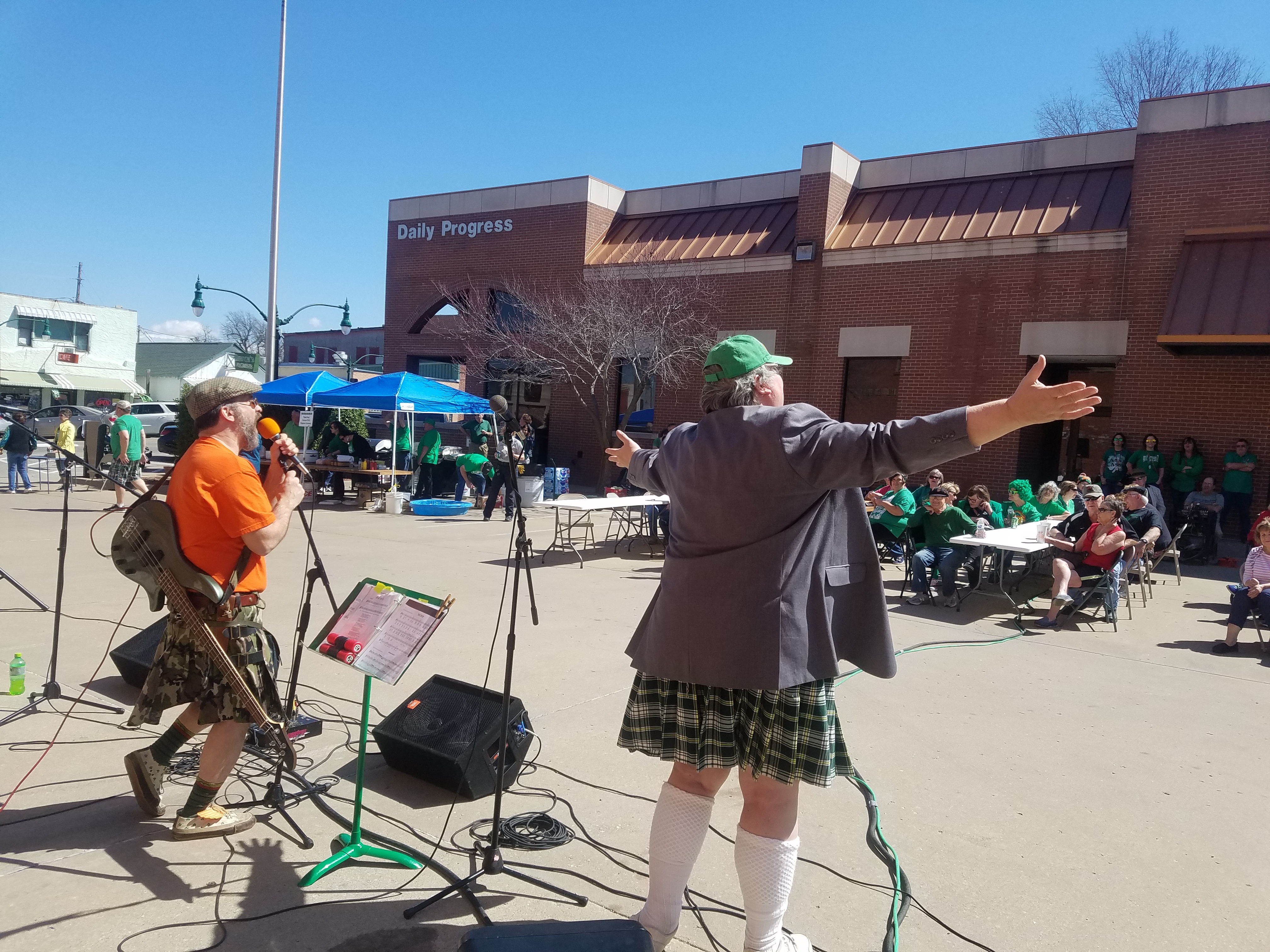 For the 11th year in a row, downtown Claremore will be serving up delicious dishes of a classic Irish feast to celebrate St. Patrick's Day with the Bangers & Mash Lunch.
The annual lunch has become one of Claremore's favorite ways to enjoy lunchtime each spring. It takes place on March 15 in the Claremore Daily Progress parking lot, 315 W. Will Rogers Blvd.
Running from 11 a.m. until 1 p.m., the lunch cost $7 for a traditional Bangers & Mash – or otherwise known as sausage and mashed potatoes. New this year, attendees can opt for some of J. Farley's famous Guinness gravy as a free addition. The meal also consists of a cookie and drink.
"We love this event," said Nancy Fitts, interim director of Claremore Main Street, the event's host. "It's an opportunity for the community to come together for lunch and celebrate."
"Given that it's scheduled for a Friday during Lent, a meatless option will be available," Fitts said.
During the lunch, the ever-popular Timothy O'Brian's Celtic Cheer will play to entertain the crowds and prizes will be drawn for guests as well as the Pot-O-Gold Giveaway worth $400.
The Pot-O-Gold Giveaway offers a chance to win "Green Bucks," shopping dollars to spend downtown. To enter the giveaway, simply visit any of the 18 participating stores between now and noon on March 14 to enter.
Each store can be visited daily to enter, but you must be 18 or older to win. There's no purchase necessary although some stores may provide additionally entries for purchases to increase the costumer's chances.
Green Bucks can be used at any of the participating stores like cash. Participating stores are: Lolipop A Sweet Boutique, Back in the Day, Bike About Bicycles, Boarding House Books, The Haberdashery, Thrift Harbor, Boom a Rang Diner, The District on Main, Outwest Home Décor, Art Nest Boutique & Studio, The Belvidere Mansion/RCHS, Coleman Antiques, The Turquoise Couch, The Cozy Cottage (Main Street Mercantile), Sailor's Antiques & Collectibles, Frosted Cake Studio, A Place 'n Time and Femme Forte.
The winner will be announced at 1 p.m. March 15 during the lunch but does not need to be present to win.
Two smaller giveaways worth $25 each and one $50 giveaway will be drawn during the lunch as well, and guests will need to be present to win those prizes.
Following the lunch, a Not-A-Parade Irish Stroll will take participants through downtown sidewalks.
T-shirts, trinkets and raffle tickets will be on sale during the event as an additional fundraiser for the nonprofit organization.
The Bangers & Mash Lunch is sponsored by Boom-a-rang Diner, Walke Brothers Meats, The Daily Progress, Claremore Fire Department, McDonald's of Claremore, Froman Propane, What-A-Burger and Cedar Point Church.
The organization also hosts the St. Paddy's Day Party, this year at Main Street Tavern and J. Farley's from noon to 10 p.m. on March 17. For more details on the party, visit downtownclaremore.org.
Anyone who is interested in volunteering at either of the events should contact Fitts at mainstreet@claremore.org or 918-341-5881.
Claremore Main Street is a nonprofit organization dedicated to the ongoing revitalization of historic downtown Claremore. With a focus on economic vitality, historic preservation and placemaking, the organization strives to secure downtown as the social and economic core of the community.