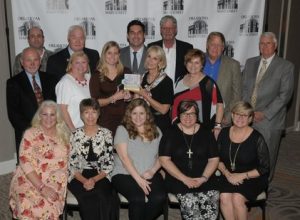 OKLAHOMA CITY – The Main Street Tavern was recognized as the first-place winner for Best Façade Rehabilitation Over $10,000 at the 28th annual Oklahoma Main Street Awards Banquet last week in Oklahoma City.
Further, Dr. Ray Brown, Claremore Main Street treasurer, was recognized as Board Member of the Year for the program.
Claremore Main Street's Crowning Achievement was being listed on the National Register of Historic Places.
Sixteen representatives from Claremore made the trip to Oklahoma City for the banquet. Melton Sales of Claremore provided a vehicle for many of the attendees to carpool together.
Thirty-four Main Street programs across the state submitted nominations that totaled more than 200 in separate categories to be considered for the awards.
Also recognized in the Top 3 from Claremore were Food Truck Thursday, Best Premier Event; Barron Law Firm, Best Façade Rehabilitation Under $10,000; and Main Street Tavern, Best Adaptive Reuse.
​
The Main Street Tavern (MST Claremore), 116 N. Missouri Ave., opened in downtown Claremore last fall and immediately became one of the local favorite restaurants.
Owner Jason Scarpa and business partner Mike Kennedy put nearly a half a million dollars into the façade rehabilitation and exterior alone. White Design Group was responsible for the architectural design services for the project.
"We are honored to even be nominated, let alone selected, for our rehabilitation of Main Street Tavern," Scarpa said. "We love being a part of Claremore and look forward to the future of downtown."
In addition to the façade work by Scarpa and crew, the City of Claremore replaced the parking lot and purchased street lights to illuminate the street after dark.
The revitalization fits with Claremore Main Street's recent expansion a block north and south of Will Rogers Boulevard. Two other buildings on north Missouri have been nominated statewide for façade improvements.
Claremore Main Street is dedicated to its mission to enrich downtown Claremore by promoting a healthy downtown economy and advocating for revitalization and historic preservation. It is a 501(c)3 nonprofit organization that was established in 2002.