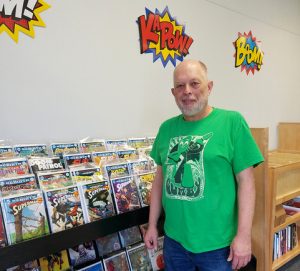 ​In the summer of 1972, two boys gathered 25 cents each and headed to the store. The goal was to pick up a package of baseball cards and begin the long tradition of trading and collecting.
From that moment on, baseball card trading became a way of life for young Steve St. John and his brother.
"That just kind of got me hooked," Steve explained. "I remember my first comic book that got me hooked was Inferior Five, No. 10."
Still passionate about both comic books and sports cards, Steve recently opened Mad Dog's Emporium, 103 N. Cherokee, in downtown Claremore.
The store has a variety of items, including new and back issues of comic books, baseball and football cards as well as a few basketball and non-sports cards and vintage video games and systems.
A 34-year computer program teacher at Tulsa Community College and Rogers State University, Steve retired in June and immediately began looking for his next project.
It didn't take him long to decide he'd fulfill his lifelong dream of combining his passions and opening a comic book and trading card store. Within five months, Mad Dog's opened.
"This is something I've been wanting to do my whole life," he said. "I started collecting when I was a kid, and I just really wanted to open a store for the longest time and the opportunity came around."
When it came time to name the store, Steve and his daughters looked back on a conversation from many moons back.
"Years ago, my wife and I … we were talking about what we would want our grandkids to call us," he said. "I said, 'you know, I want something different than the generic stuff grandpa's get called, so I think I'll have the kids call me Mad Dog.' It just kind of became a joke."
Steve said his favorite part of owning the store is interacting with the customers.
"They come in and tell me their stories about the stuff they have or used to have," he said. "It's just cool to get to talk to people who live in this same town and have the same passions as I do."
Mad Dog's Emporium is open Monday through Saturday from 11 a.m. to 5 p.m.