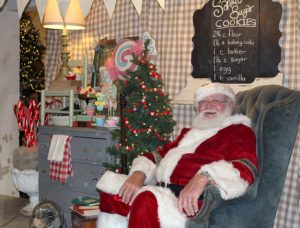 Santa Claus is coming to town. Downtown to be exact.
He's making his second appearance in downtown Claremore this Saturday as part of 1st Saturday Downtown, a monthly shopping event with great deals and usually a food truck or two.
While sales happen all day long, Santa will be greeting folks at the Will Rogers Hotel lobby for pictures between 11 a.m. and 3 p.m. on Dec. 3.
"There's nothing like the gleam in a child's eye when he or she sees Santa or sits on his lap," said Kathy Glover, the president of the downtown Merchants Group and owner of the Cozy Cottage, 518 W. Will Rogers Blvd. "That is what we want to bring to downtown this Saturday."
Those who get their picture taken will have it printed off and ready to take home that day. Photos are $5 or $4 with a canned food item, which will be donated to the First United Methodist Church's food pantry.
"The feel of a hometown Christmas is in all the wonderful shops main street has to over," Glover said. "We want everybody to come see and feel the joys of Christmas during 1st Saturday Downtown and all season."
Beginning at 12:30 p.m. in the RCB Drive Thru, the food truck Jeremiah's: a Café of Hope will be set up. Jeremiah's is a local truck with the mission to serve the people of Claremore as a ministry.
Many downtown stores participate in 1st Saturday Downtown with giveaways or discounts.
"This Saturday provides a perfect opportunity to get some of you holiday shopping in," said Jessica Jackson, director of Claremore Main Street. "We such a variety of stores downtown, you're bound to find something for everyone on your list. There's no better time to get in the Christmas spirit!"
1st Saturday Downtown is the first Saturday of every month. In January, 1st Saturday Downtown will be paired with the district's newest event, Souper Saturday, a soup-tasting fun-shopping experience.
Santa previously came to downtown Claremore during Dickens on the Boulevard on Nov. 18-19. Photos from that event are available here.