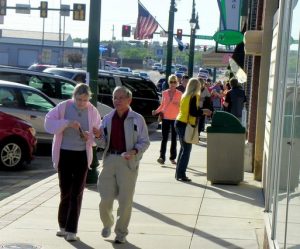 Tickets are going fast for downtown Claremore's flavorful spring event – Sip, Savor & Shop: Taste of Claremore.
The foodie favorite kicks off at 6 p.m. on April 29 and offers attendees an opportunity to sample from 26 restaurants and wineries set up inside various downtown Claremore stores for a three-hour, self-guided food experience.
Tickets are $12 in advance or $15 on the day-of, while children five years and younger who are eating off an adult's plate are free. Tickets are limited and can be purchased at participating stores.
In addition to the food and shopping, the evening will feature sidewalk entertainment by Heartland Xpress, the Smith Brothers and Duane Nelson.
New this year, the event will also include a silent auction at the Main Street/Chamber office, 419 W. Will Rogers Blvd. Items range in value and include gifts from downtown stores, Oklahoma wines, Rustic Cuff bracelets and gift cards to local stores, restaurants and hotels.
"Sip, Savor & Shop: Taste of Claremore is a great way for us to highlight local restaurants, downtown stores and area musical talent," said Jessica Jackson, Claremore Main Street Director. "It's just a fun way to explore what our town has to offer for residents and guests alike!"
Participating eateries and wineries are: Arri'bin Hills Winery, Belvidere Tea Room, Blue Coyote Winery, Bluff Creamery, Boom-a-rang Diner, Buffalo Wild Wings, Carl's Coney Island, Charlie's Chicken, Diamondhead Winery, El Azteca, El Charro, Front Porch Bakery, Hammett House, Main Street Tavern, Oke Ozark Winery, Okie Annie's, Papa John's Pizza, Paradise Donuts, Rib Crib, Sam's Club, She Brews Coffee House, Summerside Winery, Swan's Brothers Dairy, The Pink House, Tidewater Winery and Walke Brothers Meats.
Participating stores are: 320 on Main, Bike-About Bicycles, Boarding House Books, Burlap Closet, Centsible Spending, Cozy Cottage, Cranberry Merchant, Crystal Pistol Boutique/Mom & Pop Ceramic Shoppe, District on Main, The Farmhaus, The Grapevine, The Haberdashery, LoliPop: A Sweet Boutique, Outwest Home Décor, Rejoice Christian Supply, Rhapsody Boutique, Sailor Antiques, Thrift Harbor, Twine & Thread, Vintique Charm and Boutique, Waterfront Frame and Willow Tree.
Signs directing attendees throughout the event will be placed along the streets on the night of the event.
Additionally, flag art depicting train safety, designed by fourth-graders in Claremore, will be on display. Visitors are encouraged to vote for their favorite flag at the Main Street/Chamber office during Sip, Savor & Shop. The flag art is made possible by Union Pacific Railroad.
"Be sure to vote for your favorite flag art created by fourth-grade students. Flags will fly in downtown Claremore through the month of May," said Dell Davis, President and CEO of the Claremore Area Chamber of Commerce. "This art project is a great way to promote train safety and history as it relates to Claremore."
Sip, Savor & Shop: Taste of Claremore is hosted by Claremore Main Street and the Claremore Area Chamber of Commerce, both of which are non-profit organizations in town. Proceeds of the event go to support the organization's individual missions.
It is sponsored by UP Railroad, Values Magazine, City of Claremore, RCB Bank, Will Rogers Downs Cherokee Casino and moreClaremore.com.
For more information, tap here or call Claremore Main Street at 918-341-5881.