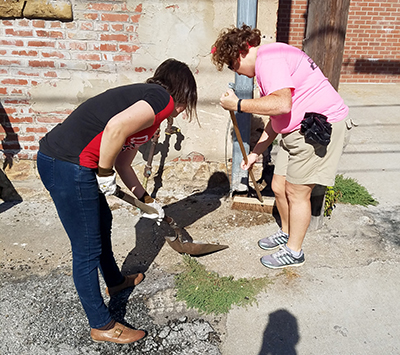 Claremore Main Street is hosting an Alley Clean Up Day this weekend as a way to get the alleyways in tip-top shape leading into spring activities.
Volunteers will meet at the Main Street office, 419 W. Will Rogers Blvd., at 2 p.m. on Sunday, March 11. Trash bags, brooms and gloves will be provided along with snacks and beverages.
"During the course of the year, the alleys can get a little dirty with glass, trash and gunk," said Jessica Jackson, Main Street Director. "We try to plan a day for volunteers to come out annually and help us shine it up a bit."
Each volunteer will receive a color-changing St. Paddy's Day Party cup, a $5 value, that can be used at the Party on March 16 for a dollar off beer all night long.
"We appreciate all the help we receive on days like this. Last time we did this, several children showed up to clean, which was really heartwarming," Jackson said. "If you're in need of service hours or just love to help the community, this is a great opportunity."
Main Street is a nonprofit organization, which qualifies it for most service hour requirements.
Business and property owners have been invited to submit projects for volunteers to work on as well in an effort to improve the look of the alleys in general.
"In the future, we're exploring some ideas for programming in the alleys, whether it is an alley art show, an alley sidewalk sale or even public art for the alleys," Jackson said. "For any of that, we need to start with great looking, clean alleyways."
The alleys will be used on March 16 following the Bangers & Mash Lunch as part of the "Not-A-Parade" stroll through downtown. This year, the path will include both alleys and sidewalks of the historic district.
While a limited number of brooms and trash gloves will be provided, volunteers are encouraged to bring their own work gloves, brooms and other equipment to extend the usage.
For planning purposes, RSVP is appreciated but not required. RSVP by calling or texting 918-341-5881 or by emailing mainstreet@claremore.org.
Claremore Main Street is dedicated to the ongoing revitalization of historic downtown Claremore. With a focus on economic vitality, historic preservation and placemaking, the organization strives to secure downtown as the social and economic core of the community.