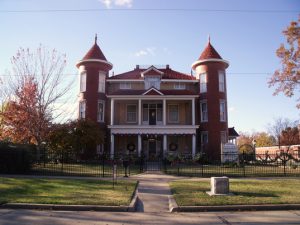 Expedia's travel blog, Viewfinder, listed Claremore as one of the best small cities for a weekend getaway. Here's what they had to say about our wonderful town.
What to do: There's hardly a better way to experience this state's charm than with a visit to Claremore, where the musical "Oklahoma!" took place. Once you've managed to get those show tunes out of your head, make your way over to Belvidere Mansion, a Victorian-style treasure built in 1907. Stick around for a spot of tea in the historical home's Tea Room and lose yourself in the city's story. Before leaving town, spend some time in nature at Claremore Lake Park. The area welcomes you to hike the trails, take a boat out on the water, or even cast a line for some spotted bass.
Where to eat: If you've never had a jalapeno cream cheese burger, then you haven't really lived. Try the novelty dish at Main Street Tavern and pair it with a local OK brew.
What not to miss: The Nut House. This log cabin, made of pecan wood, has all the nutty treats you could imagine, from chocolate peanut clusters to creamy white almonds—they make perfect souvenirs!