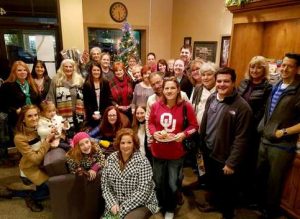 Claremore Main Street's bimonthly Cash Mob took over a small downtown business earlier this month, pumping nearly $700 into the local economy, and may lead to pet adoption assistance this holiday season.
For Cash Mob, local supports gather and then go, en masse, "mob" a downtown store chosen at random, spending $20 or more into the local economy and heading home with a bag full of merchandise.
In December, the group took over Dorothy's Flowers, 308 W. Will Rogers Blvd. The mob was sponsored by Kevin Fortna, CPA.
To do even more for the community, 10 percent of the proceeds of the night go to a local nonprofit or cause, voted on by the mobbers themselves. December's mobbers selected the Claremore Animal Shelter.
"I think it shows how the community pulls together to support the animal shelter and the needs there," said Jean Hurst, Claremore Animal Shelter supervisor. "We feel honored that the people know we do good for the community and want to help us however they can."
The cause is also near and dear to the heart of Dorothy's owner, Holly Thompson.
"The animal shelter is my pet. I love being able to help them out," she said.
The animal shelter does everything possible to find homes for the animals brought in. Because of their efforts, the shelter has reached a no-kill percentage on local canines, Hurst said.
The money donated will likely go to offer discounted adoption fees to "save more lives," she said.
In addition to serving the community and local economy, a perk of the Cash Mob is to help introduce shoppers to store they may not be familiar with. Dorothy's Flowers, for instance, has antiques, jewelry, knickknacks, stuffed animals and decorations in addition to flowers.
"We had huge feedback," Thompson said. "I heard probably 10 times 'we didn't know you had this.'"
Participants in the Cash Mob agree to attend every other month and spend at minimum $20 at the store chosen at random the night of the event. The goal is to encourage shopping local and the downtown businesses' success and to support local nonprofits.
Before the mob began, attendees came to a VIP gathering hosted at the Claremore Main Street office. Oak Hill Farm & Bakery provided holiday goodies and Rhapsody Boutique & Spa offered free hand massages.
Cash Mob is every other month on the first Tuesday of the month. Pre-registration is necessary because the starting location changes each month. Register online here and we will email the location out a week prior.
The next Cash Mob is scheduled for Feb. 7. The selected store will be drawn at 5:30 p.m., but the VIP gathering will begin at 4:30 p.m. The City of Claremore is the mob's sponsor.