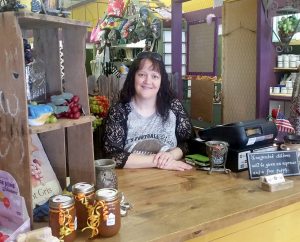 While each holding a full time job, Jeannie Smith and Richard Bowen spent two months tirelessly renovating 404 W. Will Rogers Blvd., now home to their store, The Grapevine.
"We wanted to make each individual booth creative in itself," Jeannie said. "So every time we went to build one booth, we were specific to that one; 'what can we do in this one that is different?'"
When they had a power surge, blowing out all their lights as well as their heater, they put on multiple layers and coats and continued to work through the setback. After two intense months of late-night renovations, the Grapevine opened in April of 2014.
Looking around the store, the owners' effort and detail are apparent – from the paint colors that mimic the store's name to the front counter made by hand.
The original plan was create a home for people to sell items they've created or repurposed, which was what Smith and Bowen like to do in their spare time.
"Then after a while, we just started expanding with different things coming in and making it more of a variety," Jeannie said.
The Grapevine now supports 45 vendors, each bringing a different type of product, including jewelry, dry rubs, pet clothing, wood cutting boards, hand-sewn items and household decorations.
"I like to see the creativity … It's amazing," Jeannie said. "People are so creative and to see the uniqueness and the way each individual person can take something and see if different than somebody else."
The crafty boutique is open 10 a.m. to 6 p.m. Monday through Saturday. Follow The Grapevine on Facebook!