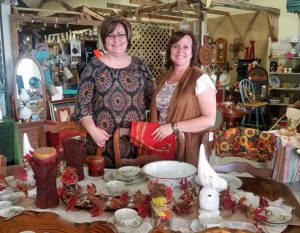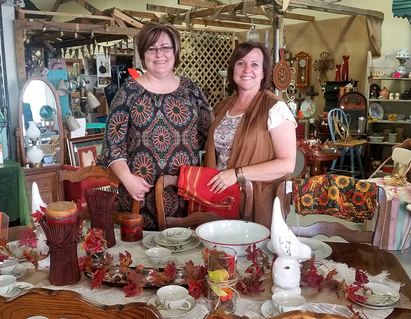 In the summer of 2013, Amy Cannon was looking for a change in her life.
"I had done nonprofit fundraising for a long time … and was needing something different. We just began to pray about a door opening and The Willow Tree came available," Amy explained. "Within two weeks, I quit my job and started running a business."
"Everything I've done in my life has led to this place where I am now," she said.
A year later, Amy needed to find a business partner to help with the store, and again, fate gave her exactly what she was looking for. Elementary school teacher Rhonda Cole, who had a booth in The Willow Tree, jumped at the opportunity. Cole retired from teaching to work full time in the store in May of this year.
"That's how we met," Rhonda said. "We found out a lot of things about us that are similar."
The similarities go back to their childhoods. Both women grew up in southeastern Oklahoma, less than 30 miles from each other. They knew some of the same families and share a passion for what they do.
"It's a small world," Amy echoed. "It's a plus that we've gelled so well together. If I have a weakness, Rhonda is usually strong in that area."
"Oh, you mean like balancing a checkbook?" Rhonda joked.
While the two were mere acquaintances prior to the business partnership, they became fast friends. Watching them together at the store, the women laugh and joke as if they've known each other a lifetime instead of 15 months.
Rhonda and Amy describe the store as a "family affair" because their husbands and children can often be seen behind the cash register.
The mall, which touts itself as the "mall with it all," houses about 70 vendors, including paint, dips, holiday decorations, clothing, antiques and household décor.
"We are a praying group. We prayed about everything," Amy said. "We were putting a lot of faith in God … we felt like we were being led to do what we've done."
"It is amazing how every detail has worked out for it to be perfect," Rhonda said.
The Willow Tree is participating in the first Highway 20 Junk & Drive, which is a 45-mile junk sale including four communities – Skiatook, Collinsville, Claremore and Pryor. It began Oct. 22 and extends through Oct. 24. Hundreds of antiquers from across the tristate area are expected to make the trek down Highway 20 this inaugural year.