Kicking off St. Patrick's Day with an Irish meal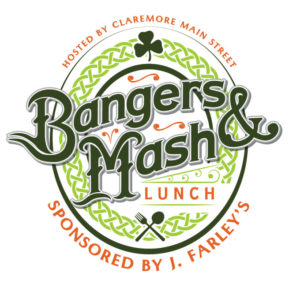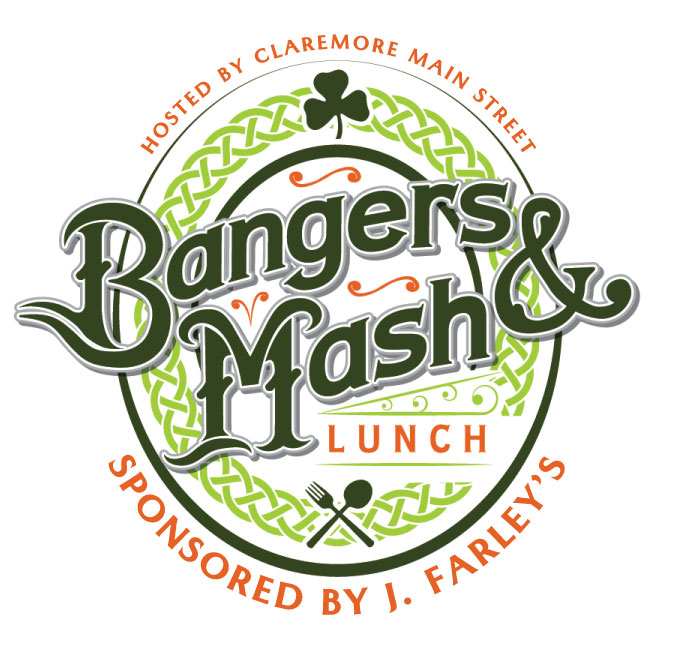 CLAREMORE – For the 12th year in a row, downtown Claremore will be serving up delicious dishes of a classic Irish feast to celebrate St. Patrick's Day with the Bangers & Mash Lunch.
The annual lunch has become one of Claremore's favorite ways to enjoy lunchtime each spring. It takes place on March 17th in the Claremore Daily Progress parking lot, 315 W. Will Rogers Blvd.
Running from 11 a.m. until 1 p.m., the lunch cost $7 for a traditional Bangers & Mash – or otherwise known as sausage and mashed potatoes, provided by J Farley's. Attendees can opt for some of J. Farley's famous Guinness gravy as a free addition. The meal also consists of a cookie and drink. Tickets are on sale downtown at Sailor's Antiques and Collectibles, The Haberdashery, and the Claremore Main Street offices.
"This event is always a great time to enjoy good food and entertainment in our downtown." said Jacob Garrison, Executive Director of Claremore Main Street, the event's host. "Our community really enjoys the opportunity to come together and celebrate this event".
During the lunch, prizes will be drawn for guests as well as the Pot-O-Gold Giveaway.
The Pot-O-Gold Giveaway offers a chance to win "Green Bucks," shopping dollars to spend downtown. To enter the giveaway, simply visit any of the participating stores between now and noon on March 16 to enter.
Each store can be visited daily to enter, but you must be 18 or older to win. There's no purchase necessary although some stores may provide additionally entries for purchases to increase the costumer's chances.
The winner will be announced at 1 p.m. March 17th during the lunch but does not need to be present to win.
Two smaller giveaways worth $25 and $50 will be drawn during the lunch as well, and guests will need to be present to win those prizes.
Following the lunch, a Not-A-Parade Irish Stroll will take participants through downtown sidewalks.
In the weeks leading up to the event, auction baskets made by J Farley's, Tap on the Tracks, Doe's Eat Place and Smoke & Tonic will be displayed at their businesses. You can bid on these items in these stores, as well as the March 14th St. Paddy's Party in downtown. All basket winners, excluding the Main Street basket, will be announced during the St. Paddy's Party at 8:00pm. The two Main Street basket winners will be announced during the Bangers & Mash Lunch as an additional fundraiser for the nonprofit organization.
The Bangers & Mash Lunch is sponsored by J Farley's and The Claremore Daily Progress.
The St. Paddy's Day Party is held in downtown and J. Farley's from noon to 10 p.m. on March 14th. For more details on the party, visit downtownclaremore.org.
Anyone who is interested in volunteering at either of the events should contact Garrison at mainstreet@claremore.org or 918-341-5881.
Claremore Main Street is a nonprofit organization dedicated to the ongoing revitalization of historic downtown Claremore. With a focus on economic vitality, historic preservation and placemaking, the organization strives to secure downtown as the social and economic core of the community.