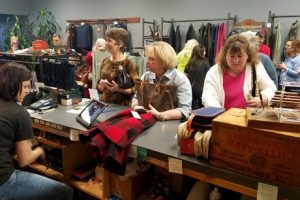 Downtown Claremore's favorite shopping event – the bimonthly Cash Mob – struck again in February as shoppers spent nearly $1,000 at a new downtown business.
The group mobbed The Haberdashery, 407 W. Will Rogers Blvd., an upscale men's clothing and accessories store. The mob was sponsored by the City of Claremore.
"I'm so glad that there are groups like Cash Mob that are here to support local small businesses," said Audrey Buck, who owns the Haberdashery with her husband, Justin Michael.
For Cash Mob, local supporters gather and then, as a group, "mob" a downtown store chosen at random, spending $20 or more into the local economy and heading home with a bagful of merchandise.
To do even more for the community, 10 percent of the proceeds of the night go to a local nonprofit or cause, voted on by the mobbers themselves. February's mobbers selected the Rogers County Free Medical Clinic.
​"We're thrilled to death that you all thought of us for this event. It's a great cause," said Ed Crum, the clinic's founding president and one of the current board members.
The medical clinic provides medical services to Rogers County residents, particularly those uninsured or low income individuals. It is located at 2664 N. Hwy 88 on Thursday night's from 6-9 p.m.
Participants in the Cash Mob agree to attend every other month and spend at minimum $20 at the store chosen at random the night of the event. The goal is to encourage shopping local and the downtown businesses' success and to support local nonprofits.
Before the mob began, attendees came to a VIP gathering at the historic Will Rogers Hotel.
Cash Mob is every other month on the first Tuesday of the month. Pre-registration is necessary because the starting location changes each month. Register online here, and we will email the location out a week prior.
The next Cash Mob is scheduled for April. 4. The selected store will be drawn at 5:30 p.m., but the VIP gathering will begin at 4:30 p.m.