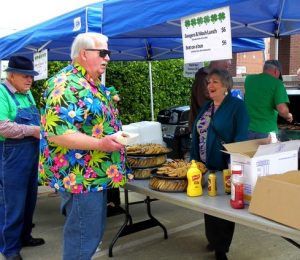 As Irish and American flags line the streets of downtown Claremore, many are gearing up for some special events this Saint Patrick's Day.
Now in its ninth year, the Bangers and Mash Lunch is a great place to dine on March 17 every year. For $6, guests can enjoy a traditional Irish meal of bangers and mash, plus a cookie and a drink. Live music from Timothy O'Brian's Celtic Cheer and Travis Peck will delight from the Eason Collision Stage.
The event runs from 11 a.m. to 1 p.m. at the Claremore Daily Progress parking lot, 315 W. Will Rogers Blvd., and ends with an Irish stroll along the sidewalks.
That night, Claremore Main Street and Main Street Tavern partner for the St. Paddy's Day Party from 6-10 p.m. in the Tavern parking lot, 116 N. Missouri Ave.
Dinner and adult beverages will be available for purchase while Timothy O'Brian's Celtic Cheer will make an encore performance. Also performing on the Eason Collision Stage will be Frank Smreker and the Goode Academy of Irish Dancing.
Guests can choose between corned beef and cabbage or bangers and mash for dinner and can order Miller Light, Guinness, red or white wine and Jameson outside at the party. Water and soda will also be on sale.
Specialty color-changing cups will be available for purchase for $5. The cup is good for a dollar off each beer outside on the night.
At both events, volunteers will be selling T-shirts – two of which have downtown shopping dollars inside – for $15, Irish trinkets and raffle tickets. The raffle includes hundreds of dollars' worth of goodies in three baskets – Painters Pot-O-Gold, Irish Survival Kit and a MST Claremore Vendor Basket. Tickets are $1 each.
​Cups and raffle tickets may be purchased in advance at Claremore Main Street's office, 419 W. Will Rogers Blvd., from 9 a.m. to 5 p.m. Wednesday and Thursday or during either event on Friday.
The party is not limited to adults 21 and older, but IDs will be checked for those wishing to drink or purchase raffle tickets.
Finally, anyone can enter to win up $450 in Green Bucks – shopping dollars that can be spent like cash at 18 participating stores in downtown Claremore.
The Pot-O-Gold Giveaway is easy to enter. Visit any of the participating stores through noon March 16 and fill out a drawing ticket. No purchase necessary. Some stores offer additional tickets with purchased items, however.
At the Bangers and Mash Lunch, one ticket will be drawn for the $450 grand prize. The winner need not be present. Two smaller $50 giveaways will also be done during the lunch, but guests will need to be present to win one of those.
The participating stores are: Belvidere Gift Shop, Bike About Bicycles, Boarding House Books, Boomerang Diner, Centsible Spending, Cozy Cottage, Cranberry Merchant, District on Main, Grapevine, Haberdashery, LoliPop: A Sweet Boutique, Mad Dog's Emporium, Outwest Home Décor, Rhapsody Boutique & Spa, Sailor Antiques, Thrift Harbor, Vintique Charm & Boutique and Willow Tree Mall.
Claremore Main Street is a 501(c)3 nonprofit organization that works to enrich downtown Claremore by promoting a healthy downtown economy, advocating for revitalization and historic preservation and hosting quality of life activities. Proceeds from the events benefit the organizations efforts.
The Presenting Sponsor for the Bangers & Mash Lunch and St. Paddy's Day Party is Pixley Lumber. The Party is cohosted by Main Street Tavern.
Tap here for a full list of sponsors and additional information about the events.