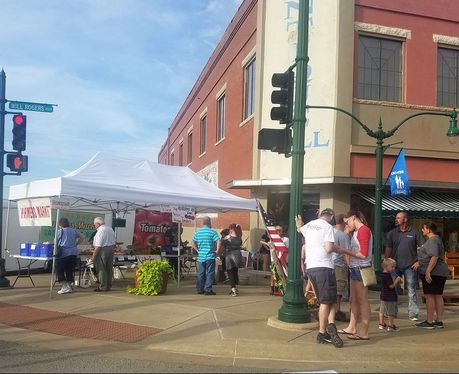 As families adjust to back-to-school schedules, Food Truck Thursday in downtown Claremore celebrates the occasion with Downtown School Daze on Aug. 31.
The monthly event features food, live music, shopping and fun for all ages 6-9 p.m. In August, American Idol contestant Jake Dillon will take the stage in the 500 block while about 20 food trucks line the streets. A free Kids Zone by Cedar Point Church and a chance to dunk elementary school personnel in the dunk tank will delight kids of all ages.
Food Truck Thursday is always free and open to the public, but food and some activities do cost extra.
"This month is all about back-to-school," said Kathy Glover, Food Truck Thursday committee chairwoman and owner of the Cozy Cottage, 514 W. Will Rogers Blvd. "We have the staples each month – food trucks, local musicians, shopping and a Kids Zone – but a new theme adds a little something special so no two events are ever the same."
Jake Dillon – known by his friends by his real name Jake Tankersley – was a contestant on the final season of American Idol. He performed for Harry Connick Jr., Jennifer Lopez and Keith Urban, getting two of three votes and a punching a ticket to Hollywood.
The dunk tank hosts school leaders or teachers from Claremore's Westside, Stuart Roosa, Claremont and Catalayah elementary schools and from Sequoyah Elementary from 6:30-8:50 p.m. For the tank, $5 is good for three attempts to dunk. A portion of the proceeds will go back to the schools.
For a full schedule and list of participants, visit the Facebook event the week of Food Truck Thursday.
Additionally, Food Truck Thursday is the final night to donate to participating stores for the month-long school supply drive, which benefits Claremore, Sequoyah and Verdigris schools.
The Kids Zone by Cedar Point Church is completely free to attendees, but parents are asked to watch their children while they enjoy the games and fun activities. There will be a bounce house, a paper airplane making contest and free cookies and juice. The zone also includes old-school school-yard games like hop scotch, jump rope and four-square.
The Kids Zone has moved to the 500 block at the corner of Missouri Avenue and Will Rogers Boulevard to make room for more food trucks down the center of the street.
"This is the best event for families," said Jessica Jackson, executive director of Claremore Main Street. "Not only is there a great selection of food options and shopping locations, but also we're supporting schools, dunking principals and have a free Kids Zone."
Food trucks include Alpha Grill Food Truck, ​The Bacon Food Truck, ​BackWatters BBQ, ​Breenie'Z Soft Pretzels, Curbside Comfort, ​C&J Concessions, Dorothy's Wiches, Hoops Philly Truck, Jen's Java​, ​Kona Ice, La Hermosa Taco Truck, Maw & Paw Kettle Corn, MooChewSooey BBQ, ​My Baby Can Cook, ​Not Your Grandma's Cupcakes, Purple People Feeders, Ropin Flamingo Italian Ice, Taqueria El Jarocho and Wild Al's Food Truck.
Food Truck Thursday will run monthly on the final Thursday of the month. Upcoming dates are September 28 and October 26.
The monthly event is hosted by the Downtown Merchants Association and Claremore Main Street, a nonprofit organization dedicated to the revitalization of the downtown district and reigniting the area as the social core of our community.
Food vendors interested in participating anytime this season should e-mail Jeannie Smith at ftt.foodvendors@yahoo.com while nonfood vendors who would like to set up a booth should email Sheila Giannelli at fttnonfoodvendors@yahoo.com. Space is extremely limited.
For more information, join the Facebook event.