BY CYDNEY BARON cbaron@claremoreprogress.com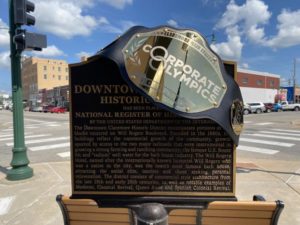 Ever wanted to stand triumphantly holding a heavyweight championship belt above your head for all to see?
Claremore Main Street's newest event may make that dream a reality.
"This is an idea I had brought to our promotions committee back in January. We are really excited to bring this to Claremore. We think it will be a fun city-wide event that we can have some fun, competitive games that bring people together," said Claremore Main Street Executive Director Jacob Garrison.
He said the arrival of COVID-19 changed their plans slightly but that there's still plenty of fun to be had .
"We have decided that during our August Food Truck event we will be having our first Claremore Main Street Corporate Olympics event," he said. "We will have four events: three-on-three basketball, a football target competition, Angry Ax and cornhole."
He said he's excited to bring these events to Claremore, and excited to see the event grow year after year.
"The response has been exactly what I hoped it would be. They have immediately started trash talking, all in good fun, saying they're going to take the title. They're really exited about the event," he said. "I wanted to make it as different and exciting as possible. So, when we started talking about prizes I said instead of doing traditional trophies, let's do something different. We had a leather, custom heavyweight belt made. It has the event logo on the front but it has sideplates that we can customize. So when a business wins and is displaying the belt, it will have their business logo on the side plates."
While many businesses have already signed up teams, Garrison said they have a limited number of spaces still available.
In this first year he said they're trying to keep the size of the event manageable for the sake of organization and in respect to COVID.
Any business in city limits that is interested in participating should email mainstreet@claremore.org