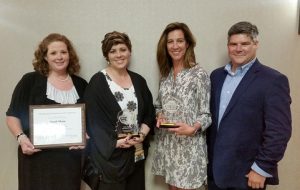 The Burlap Closet and North Block Common were recognized with first place awards at the 27th annual Oklahoma Main Street Awards Banquet on May 3 in Oklahoma City.
Further, Sarah Sharp, Claremore Main Street vice president, was recognized as Board Member of the Year for the program.
Claremore Main Street's Crowning Achievement was the Strategic Plan, which renewed the focus needed to take the program to the next level.
Thirteen representatives from Claremore made the trip to Oklahoma City for the banquet. Melton Sales, Inc. provided a vehicle for many of the attendees to carpool together.
Main Street programs across the state submitted more than 250 nominations in 21 separate categories to Oklahoma Main Street Center to be considered for the awards.
The Burlap Closet
The Burlap Closet, 405 W. Will Rogers Blvd., took home the grand prize for Best Visual Merchandising, a category that features businesses that have a unique way of showcasing their items.
"It was exciting just to be in the running. I never really expected to win. We are truly blessed beyond measure to be in this community doing what we love," said Katrina Pope, the store's owner.
The Burlap Closet isn't your average boutique, and it certainly doesn't remind customers of a department store.
In the boutique, shoppers will find clothes and accessories hanging from a chair on the wall or inside an antique hutch, purchased from a neighboring downtown store. Almost all the items used to display her merchandise were bought downtown.
The store maintains a rustic-chic look throughout with wood pallets on the wall and modern furniture on the ground for visitors to rest.
Burlap Closet was a finalist in Best Building/Business Branding for their exterior signage as well.
North Block Common
North Block Common, 115 N. Missouri Ave., earned the Best Façade Rehabilitation Under $10,000 at the banquet.
"It was fun to see the energy and excitement of Main Streets across Oklahoma," said Robert Melton, one of the owners of North Block Common who attended the banquet. "We are honored to be a part of Claremore Main Street and look forward to what is clearly a bright future."
During their renovation last summer, brother and sister owners Robert Melton and Amy Gordon removed dated white painting on the bricks, uncovering an old ghost sign for a grocery store they later discovered was owned by their great-grandfather, George Melton.
Further, they replaced the windows and doors and added new outdoor lights and signage. The clean look of the building preserves its historic significance while updating to a modern feel.
The inside of the 3,500 square-foot building was turned into a co-working and meeting space that is now home to moreClaremore.com and Claremore Collective.
North Block Common was also a finalist in Best Interior Design Project.
"North Block Common was honored to be nominated for two categories and excited to bring home an award," Amy said. "We are proud that our efforts have been recognized on a State level and look forward to working more with our Main Street community."
Sarah Sharp
Claremore Main Street Vice President Sarah Sharp was voted as the Board Member of the Year by the local chapter's Board of Directors.
Sarah has been with Main Street for six years and serves on several committees, including co-chairing the Promotions Committee and chairing the St. Paddy's Committee.
"It's great to see Claremore recognized for the strides business owners, organization and individuals have taken and continue to take to improve our community," Sarah said.
Her keen organization skills, her knowledge of the program and its history and her presence at all events hosted by or in downtown either as a volunteer or an attendee led to her peers nominating her for this honor.
Sarah's dedication to Main Street is invaluable and, more importantly, her character is unmatched.
This is the second time Sarah was named Board Member of the Year, having taken the honor in 2014 as well.
The Strategic Plan
In 2015, Claremore Main Street saw a year of transition and refocusing, which after hundreds of volunteer hours by Board members and stakeholders, resulted in the Strategic Plan.
The Strategic Plan put the program on the path to becoming stronger and more valuable in the years to come through specific goals, realistic objectives and renewed passion for the work the program does.
The Strategic Plan included six goals: increase memberships and sustainable funding, improve visual appeal through updates, increase the number of available properties, increase foot traffic, establish a strong merchant group and maintain ongoing communication with key audiences.
Each goal was assigned to one of the organization's committees, and progress on each has gone well since the adoption of the plan last summer.
"The tides are turning and change is occurring," Sarah said. "It is an exciting time for Claremore and its citizens."