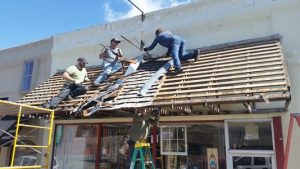 Claremore Main Street volunteers known as the "Façade Squad" spent their Sunday helping the Thibodeau family remove an awning from their newly purchased building in downtown Claremore.
Carol Thibodeau and her family purchased 318 W. Will Rogers Blvd. and will be moving their store, Rhapsody Boutique & Spa, 108 S. Cherokee Ave., in the coming months.
But first, rehab.
​
Carol's husband, William, and son Brad joined the Façade Squad, comprised of Tracy Whittaker, Ray Brown and Dale Peterson, on Sunday for the first step to the renovation.
​"We are thankful for the assistance of the Façade Squad," Carol said. "They came ready with tools in tow, gave up their Sunday and worked hard. A true example of a community coming together to support each other."
It took the group three hours to remove the awning and clean the area of debris. Since then, the owners have been removing paint chips from the building in preparation for a new coat of paint.
In the process, the Thibodeau's have discovered a ghost sign that says "Daily Progress." 318 W. Will Rogers was once home to the Claremore Daily Progress.