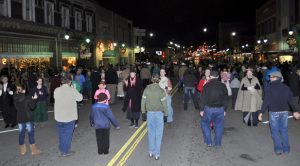 The holidays start a little early in our downtown as the 19th annual Dickens on the Boulevard brings the 1800s alive in the heart of Claremore on Nov. 20 and 21.
The Victorian-themed Christmas festival is a town favorite and is free and open to the public. It begins at 6 p.m. each night.
"Dickens on the Boulevard is such a fun event for us to create for Claremore, and guests always seem to have a great time being propelled back in time for this annual Christmas kick-off," said Denise Lawrence, chairwoman of the Dickens planning committee.
Fun for all ages, the festival features a Victorian stroll and dance, living windows, Territorial Marshal re-enactment and a salute by the Tri-State Gunfighters. Also, guests can enjoy live street entertainment, pictures with Santa Claus, an interactive live nativity, wagon rides to the Belvidere Mansion and Claremore History Museum and local author book signings.
Before each night is out, there will be a best-dressed Victorian costume contest and more than $400 in prize giveaways, referred to as 'Dickens Dollars,' to attendees who enter to win.
"As a store owner, I love this event each year," said Chelsea Mize, owner of The Cranberry Merchant. "We are lucky enough to get to host Santa Claus, and I love to see the look on the kids' faces when they see him. All in all, this is one of my favorite things we do in downtown Claremore!"
For those who want a peak at some of the historic upper-floors of the downtown buildings, 'Tales from the Top' will guide guests through five buildings while costumed performers portray characters from Claremore's past.
"'Tales from the Top' is a definite favorite among guests," Lawrence said. "To get a chance to see the upper-floors as they look today but also get a glimpse of their history is a rare opportunity."
Tickets for 'Tales from the Top' are $10. They are limited and can be purchased in advance at Claremore Main Street's office at 419 W. Will Rogers Blvd.
Guests are encouraged to come hungry to Dickens on the Boulevard as delicious fare of stew, cornbread, hot dogs and kettle corn can be purchased. The stew and cornbread will be provided by Dot's Café, a downtown staple. A full meal can be purchased in the 400 block of Will Rogers Boulevard for $7.
Dickens on the Boulevard is hosted each year by Claremore Main Street, Inc., on the weekend before Thanksgiving. For more information, tap here.
​
​#DickensBlvd2015