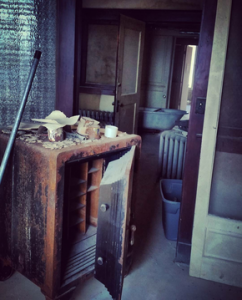 Watch Claremore's past come alive and give your curiosity a scratch with a chance for a special peak at the historic upper-floors of five downtown Claremore buildings this weekend.
Claremore Main Street offers Tales from the Top tours during the annual Dickens on the Boulevard on Nov. 20-21.
The tour will guide guests through five buildings while costumed performers portray characters from Claremore's past.
During the tour, you'll get to meet a grandmother who's heading west, watch a turn of the century city council meeting and maybe even stand face-to-face Oklahoma's favorite son, Will Rogers.
​Then, grab a flashlight to explore the dimly-lit abandoned areas on your own.
​
The entire tour, which begins promptly at 6 p.m. each night, is roughly an hour and a half, finishing up just in time to catch the Territorial Marshal and Tri-State Gunfighters' re-enactment on Will Rogers Boulevard.
Tickets for Tales from the Top are $10. They are limited and can be purchased in advance at Claremore Main Street's office at 419 W. Will Rogers Blvd.
Tales from the Top is part of Dickens on the Boulevard, hosted each year by Claremore Main Street, Inc., on the weekend before Thanksgiving. For more information, tap here.