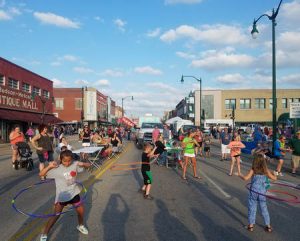 Food, live music, shopping, face painting and carnival games are the best way to tackle the summer heat this month with the Downtown Carnival as part of the Food Truck Thursday event series on July 27.
The evening event will run from 6-9 p.m. and will feature the band The Aviators playing classic rock all evening long in the 500 block, more than 15 food trucks, late shopping, carnival games for kids and adults, a "Pie Your Pastor" fundraiser and a free Kids Zone by Cedar Point Church.
Food Truck Thursday is always free and open to the public, but food and some activities do cost extra.
"Food Truck Thursday is a fun event series that is simply an opportunity for Rogers County residents to come out and enjoy a night in downtown Claremore," said Jessica Jackson, executive director of Claremore Main Street. "Each month has its own theme and is somewhat different, which keeps things fresh."
​The "Pie Your Pastor" fundraiser will help raise money for local churches as well as for downtown Claremore. Each participating church will have a donation jar at the event. The church that raises the most money between 6-8 p.m. will get to see their pastor "pied" in the face at 8:15 p.m. A portion of the proceeds from each church – not just the "winning" church – will be donated back to the church.
For a full list of participating churches, visit the Facebook event the week of Food Truck Thursday. If you're interested in participating as a church, email Jackson at mainstreet@claremore.org.
For $1, guests can play the game Plinko for a chance to win a grand prize of a food truck or downtown store gift card. Each turn will send the player home with something.
The Kids Zone by Cedar Point Church is completely free to attendees, but parents are asked to watch their children while they enjoy the games and fun activities. There will be free clown noses, cotton candy and popcorn given away. The Kids Zone also will have balloon animals, face painting, carnival games and a fun photo opportunity.
This month, the Kids Zone will move to the 500 block at the corner of Missouri Avenue and Will Rogers Boulevard to make room for a record 18 food trucks down the center of the street.
Food trucks include Alpha Grill Food Truck, ​The Bacon Food Truck, ​Breenie'Z Soft Pretzels, Curbside Comfort, ​C&J Concessions, Dorothy's Wiches, Hoops Philly Truck, ​Kona Ice, La Hermosa Taco Truck, Maw & Paw Kettle Corn, MooChewSooey BBQ, My Baby Can Cook, Ropin Flamingo Italian Ice, Taqueria El Jarocho and Tiger Bite.
"This is going to be a particularly fun month," said Kathy Glover, Food Truck Thursday committee chairwoman and owner of the Cozy Cottage, 514 W. Will Rogers Blvd. "We have a ton of food trucks, a classic rock band and a couple of unique activities like 'Pie Your Pastor' and Plinko."
Food Truck Thursday will run monthly on the final Thursday of the month. Upcoming dates are August 31, September 28 and October 26.
The monthly event is hosted by the Downtown Merchants Association and Claremore Main Street, a nonprofit organization dedicated to the revitalization of the downtown district and reigniting the area as the social core of our community.
Food vendors interested in participating anytime this season should e-mail Jeannie Smith at ftt.foodvendors@yahoo.com while nonfood vendors who would like to set up a booth should email Sheila Giannelli at fttnonfoodvendors@yahoo.com. Space is extremely limited.
For more information, join the Facebook event.