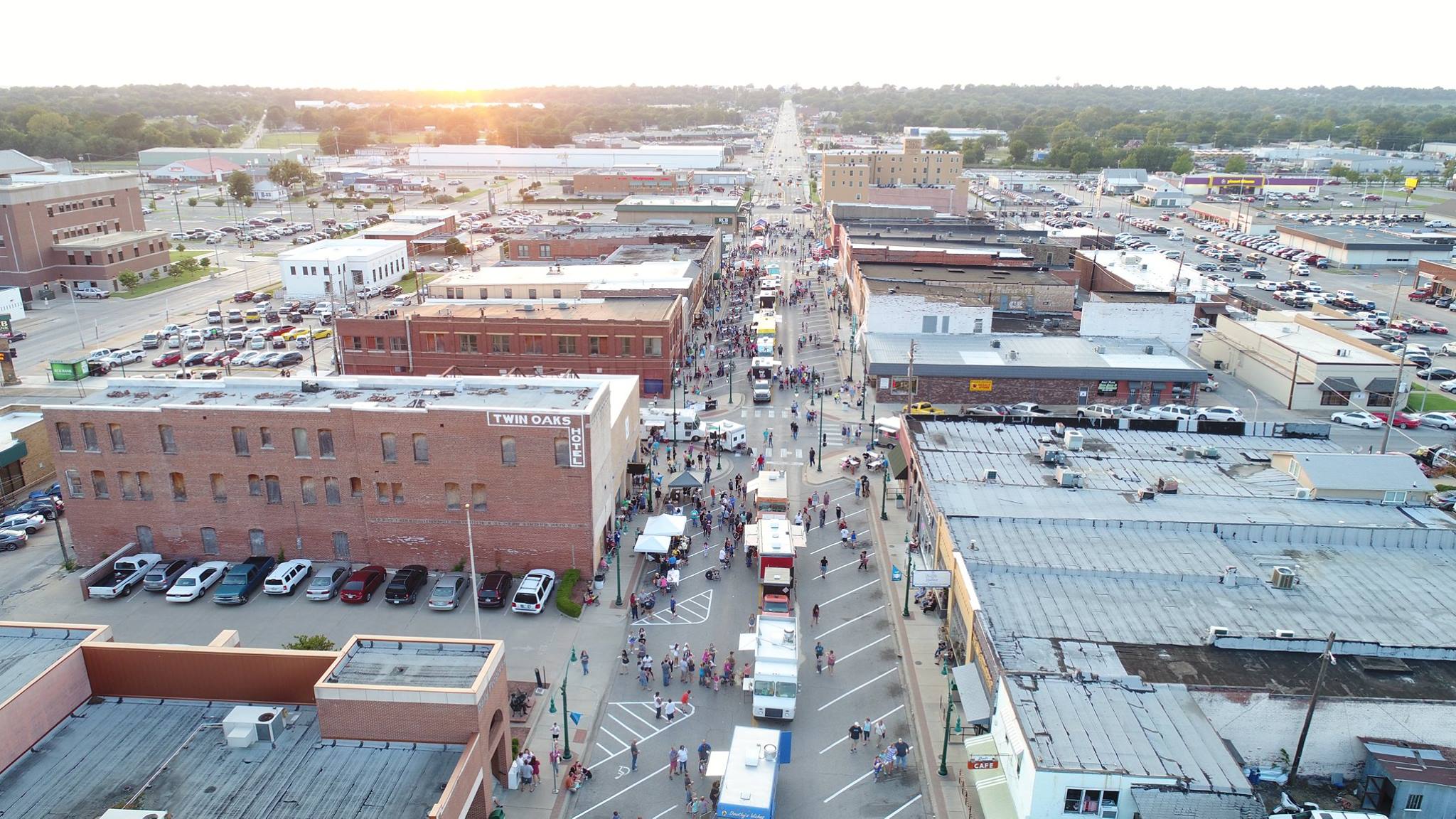 September signals the beginning of fall for many, and Claremore will be celebrating with a Downtown Fall Festival during Food Truck Thursday on Sept. 28.
The monthly event features food, live music, shopping and fun for all ages from 6-9 p.m. In September, more than 15 food trucks will line the streets while attendees can enjoy live music from Brent Giddens Band, do some late-night shopping and bid on a custom one-of-a-kind scarecrow to take home.
Additionally, there will be a free Kids Zone by Cedar Point Church, a dunk tank that benefits the Claremore High School Band, produce from the Claremore Farmers Market and beer from the Main Street Tavern.
Food Truck Thursday is always free and open to the public, but food and some activities do cost extra.
"Fall is my favorite time of the year, so I'm extra excited about this month's Food Truck Thursday," said Jessica Jackson, executive director of Claremore Main Street. "We're also thrilled to partner with Studio B Artworks to host the first scarecrow contest and auction."
Twenty-five local businesses signed up to participate in the contest, creating special, one-of-a-kind scarecrows. People are asked to vote for their favorites online with a "like" on the photos Studio B's Facebook page's scarecrow gallery. The Top 10 will be in a live auction at 7:30 p.m. at the stage in the 500 block. [SEE GALLERY]
The remainder will be in a silent auction between 6-8:15 p.m. that night. Winners must pick up and pay for their scarecrow on the night of the auction.
A portion of the proceeds will go to benefit Studio B's programming to bring a love and appreciation of art to Claremore and Rogers County youth. The remainder will go to a downtown art project.
"The scarecrow auction is a fun addition to our event this month," said Kathy Glover, Food Truck Thursday committee chairwoman and owner of the Cozy Cottage, 514 W. Will Rogers Blvd. "We've had a great time creating these scarecrows for Claremore to enjoy!"
The Kids Zone by Cedar Point Church is completely free to attendees, but parents are asked to watch their children while they enjoy the games and fun activities. There will be a bounce house, tic-tac-toe and bowling with pumpkins, corn toss, a photo area and free popcorn balls and juice.
The Kids Zone has moved to the 500 block at the corner of Missouri Avenue and Will Rogers Boulevard to make room for more food trucks down the center of the street.
Food trucks include Alpha Grill Food Truck, ​The Bacon Food Truck, Curbside Comfort, ​C&J Concessions, Dorothy's Wiches, Hoops Philly Truck, Jen's Java, ​Kona Ice, La Hermosa Taco Truck, Maw & Paw Kettle Corn, Moose Trax, ​My Baby Can Cook, Pie in the Sky, ​Polickers, Purple People Feeders, Ropin Flamingo Italian Ice and Taqueria El Jarocho.
Food Truck Thursday will run monthly on the final Thursday of the month. The final one will be October 26.
The monthly event is hosted by the Downtown Claremore Merchants Association and Claremore Main Street, a nonprofit organization dedicated to the revitalization of the downtown district and reigniting the area as the social core of our community.
Food vendors interested in participating anytime this season should e-mail Jeannie Smith at ftt.foodvendors@yahoo.com while nonfood vendors who would like to set up a booth should email Sheila Giannelli at fttnonfoodvendors@yahoo.com. Space is extremely limited.
For more information, visit our website or join the Facebook event.