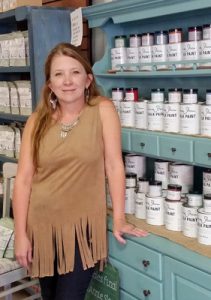 Sheila Giannelli never saw herself as a boutique owner but after earning a paralegal degree and spending 14 years as a homemaker, things fell into place and she opened Vintique Charm and Boutique, 321 W. Will Rogers.
"I just feel blessed. I'm very, very, very absolutely 199 percent thankful every day that I can do this," Sheila said. "I never really thought this would happen for me … it just happened."
"My whole life just changed when I opened the store, so I have a lot to be thankful for."
Originally focused on chalk paint, the businesses grew to include handmade furniture pieces, refurbished items and clothing.
"We just wanted to carry one of everything if we could," Sheila said. "I really want thing that are handmade and just things that catch the eye, things that are different. I've never wanted to carry what anybody else has."
One of her favorite aspects of the store is the chalk paint classes, she said. Chalk paint, which celebrates its 25th anniversary today, has key benefits for remodeling projects, such as it can go over existing paint, gives a distressed look and coats evenly.
"That has probably been my biggest success," she said. "I owe everything I have really to the paint."
Sheila offers various classes, including a "Bring Your Own Piece," which is $125 for about three hours, a can of paint and a couple painting essentials. She also teaches smaller, instructional classes for $75 and hosts Pinterest parties, which range from $25-$40.
She said she tries to host at least one class every other week in Claremore as well as at her Tulsa store. Follow Vintique Charm on Facebook for class details.
Sheila also does a lot of custom-made items, including T-shirts, signs and wine glasses. Vintique Charm opens at 10 a.m. Tuesday through Saturday.