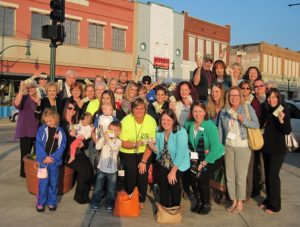 Downtown Claremore stores are going to get mobbed again this fall — besieged with shoppers eager to spend their $20.
Claremore Main Street, Inc., is bringing back the popular Cash Mob in October. "Mobbers" who sign up will commit to spending a minimum of $20 at a downtown store, chosen randomly the night of the event.
Mobbers will be asked to participate – or send a representative – to each Cash Mob, which will be the evening on the first Tuesday of every other month beginning Oct. 6.
"This event has been hugely popular in the past. Mobbers love the opportunity to support local businesses and purchase great finds," said Denise Lawrence, Main Street's promotion committee chairwoman. "It's great for the mobbers, the merchants and local economy."
Not only that, but also each event also supports a local charity. Ten percent of the proceeds from the night go to a local charity voted on by participants that night.
Participating stores this year include, but are not limited to, Vintique Charm and Boutique, Thrift Harbor, the Belvidere, Sailor Antique, Burlap Closet, Cranberry Merchant, Willow Tree and Cozy Cottage.
"We are excited to be a participating store in this year's Cash Mob," said Kathy Glover, owner of Cozy Cottage. "It is a lot of fun! This is such a great thing for the downtown merchants, and it gives our community a chance to enjoy our stores in the evenings."
Many downtown stores will remain open through the mob, even if their business is not the one chosen that month, giving mobbers a chance to enjoy other stores after making their purchase at that month's store.
Tap here to sign up to join the Cash Mob. Mobbers must attend all the Cash Mobs and spend at least $20 in the chosen store.