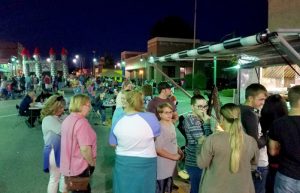 Downtown Claremore is closing off the second season of Food Truck Thursday with a Halloween bash from 6-9 p.m. on Oct. 27.
Food Truck Thursday: Downtown Claremore Zombie Infestation features local band Kelli Lynn and the Skillet Lickers, a Halloween costume contest, Trick-or-Treating through the block, a free Kids Zone by First United Methodist Church, more than 10 food trucks and late-night shopping deals.
"We're asking guests to wear costumes that are fun and family-friendly – not too scary – and enjoy our last food truck event of the season," said Carol Thibodeau, the event committee chairwoman and owner of Rhapsody Boutique & Spa, 318 W. Will Rogers Blvd.
There will be a costume contest at the stage at 7 p.m. The age categories are 0-5 years old, 6-12 years old and 13 and older. Costumes do not have to be zombie-themed.
"I'm a huge fan of Halloween, so I'm really excited about this month's Food Truck Thursday theme," said Jessica Jackson, Claremore Main Street's director. "We hope everyone comes out to enjoy the atmosphere, band, food trucks and especially our fabulous shopping."
The Kids Zone by First United Methodist Church is completely free to attendees, but parents are asked to watch their children while they enjoy the games and fun activities.
Boarding House Books, 300 W. Will Rogers Blvd., will feature a book signing by local authors Linda Trout, Peter Bradasz, Jessica Garrison, John Paul Tucker and Dorothy Cummings.
This month the event features thirteen food trucks, brought in to provide more variety of cuisine and desserts and potentially shorter food lines.
Food trucks include Meltdown Gourmet Grilled Cheese, Dorothy's Wiches, MooChewSooey BBQ, Taqueria El Jarocho, Papos Latin/American Cafe, Curbside Comfort, Jeremiah's A Cafe of Hope, Kona Ice, BackWatters BBQ Chuckwagon, La Hermosa, Wild Al's, Maw & Paw Kettle Corn and Jen's Java.
This is the final Food Truck Thursday remaining this season. The event will return in the spring.
The monthly event is hosted by the Downtown Merchants Group and Claremore Main Street, a nonprofit organization dedicated to the revitalization of the downtown district and reigniting the area as the social core of our community.