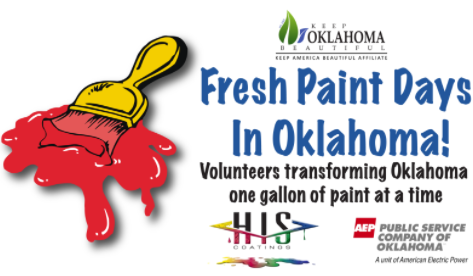 One downtown Claremore building will have an all new look with a fresh coat of paint thanks to Claremore Main Street volunteers and Keep Oklahoma Beautiful's Fresh Paint Days grant.
Volunteers will gather on Monday (Sept. 17) evening to paint the outside of downtown's centermost building, 409 W. Will Rogers Blvd. The store, formerly the Willow Tree Mall, is in the process of re-branding to the name Back in the Day.
"I'm so excited about Fresh Paint Days. It's going to greatly improve the look of my store and our street," said Ronda Cole, owner of Back in the Day. "The timing is perfect since I'm re-branding my store I'll have a new look for a new name!"
The "Paint Party" will begin at 5 p.m. and will go through 8 p.m. Supplies and dinner will be provided to volunteers, whether they're able to give just an hour or stay for the duration. All are welcome.
"This is the second year in a row we've participated in Fresh Paint Days," said Jessica Jackson, director of Claremore Main Street. "It's a great opportunity to really put some sweat equity into our wonderful downtown to support businesses and improve the area."
Additionally, each volunteer who signs in will be entered into a drawing to win a $50 gift card to Back in the Day.
Claremore's local Sherwin Williams store is a community partner, donating primer, paint supplies and t-shirts for all volunteers.
The volunteer painters will be replacing orange and black paint with recycled, almond-colored H-I-S paint provided by the grant.
Fresh Paint Days is a program founded on the collaboration between H-I-S Paint and Keep Oklahoma Beautiful. KOB, with the help of sponsors, provides the paint and a stipend for supplies; selected communities supply the volunteers. This program has helped to revitalize communities across Oklahoma with a fresh coat of paint.
Claremore Main Street and Back in the Day are among 43 participating groups working on chosen projects across the state.
H-I-S Paint and Keep Oklahoma Beautiful started the Fresh Paint Days program in 2005.
"H-I-S Paint is thrilled with the transformations that are being made within each of the communities participating in the Fresh Paint Days in Oklahoma initiative," said Joe Cox, founder and CEO of H-I-S Paint. "It's amazing how a fresh coat of paint can help to transform the entire community."
Amelia Schoenhals, the projects coordinator for KOB, works with potential participants throughout the application process.
"I am honored to be able to assist communities in renewing their pride for the town they have built a life in," Schoenhals said. "The participants of Fresh Paint Days truly exemplify how Oklahomans can make a change by working together, asking for help and applying a vision for the future."
Claremore Main Street is dedicated to its mission to enrich downtown Claremore by promoting a healthy downtown economy and advocating for revitalization and historic preservation. It is a 501(c)3 nonprofit organization that was established in 2002.
For more information, call Jackson at 918-341-5881 or email mainstreet@claremore.org.