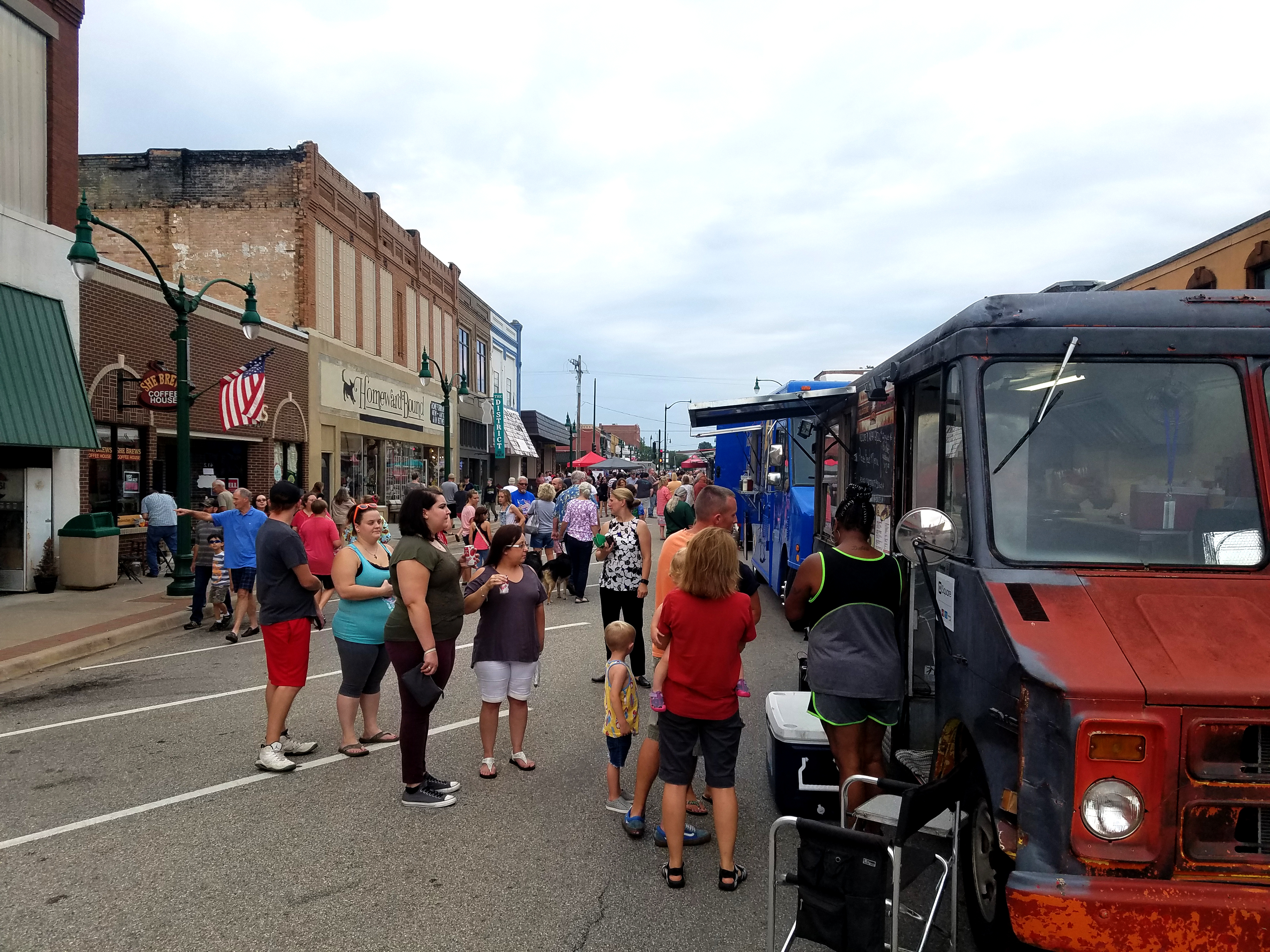 Downtown Claremore is celebrating the days when women walked around downtown in poodle skirts and Elvis Presley was the most popular musician in America. The days before cell phones, when color TVs first hit the market.
This celebration of the 1950s is part of Food Truck Thursday At the Hop Downtown on Aug. 30 from 6-9 p.m. in Downtown Claremore. The monthly, seasonal event features more than 15 food trucks, late night shopping downtown, a free Kids Zone by Cedar Point Church, local musicians and a fun theme each month.
Performing for the night is Elvis Presley — known locally as EJ Sharp. He will be performing at the stage in the 500 block.
The event also features a Classic Car Show, which is held in conjunction with Volunteers for Youth as a small fundraiser for the organization. The show will feature up to 20 classic cars available for viewing and voting from 6-8 p.m. in the Claremore Daily Progress Parking Lot, 315 W. Will Rogers Blvd.
Guests will get to vote on their "Fan Favorite." Voting will end at 8 p.m., and the winner will be announced at the stage at 8:30 p.m. The winning car's owner will receive a $100 gift card to Doe's Eat Place.
It is free to vote, and each attendee will get one vote. To enter a car, the registration fee is a $10 donation to Volunteers for Youth. One hundred percent of the proceeds will go to the organization to support its mission to keep at-risk youth on track for a happy, healthy, productive life. Space is limited. Those interested in participating can download the application here.
At the free Kids Zone by Cedar Point Church, kids can play volleyball, hop scotch, hula hoop and other fun kids games. The church also always offers a free snack for all kids in the Kids Zone. Parents are asked to watch their children while they enjoy the games and fun activities.
Volunteers for Youth's TSET Healthy Living Program is sponsoring a free cooking demonstration with items available for purchase at a farmer's market booth nearby. There also will be a dunk tank to benefit the Volunteers for Youth.
Most shops will remain open throughout the event while other vendors will be in the streets to add to the shopping variety. The Main Street Tavern will be selling low-point beer, and Studio B Artworks will be offering face painting.
Food trucks include Alpha Grill, Blue Boys Soul Food, Curbside Comfort, Dave's Smoke Shack, Dorothy's Wiches, Hoops Philly Truck, Hot Mess BBQ, Jack's Ice Cream, Kona Ice, La Hermosa Taco Truck, Maw & Paw Kettle Corn of Miami, MooChewSooey BBQ, My Baby Can Cook, Ropin Flamingo Italian Ice, Taqueria El Jarocho and Wild Al's.
Food Truck Thursday is a monthly, seasonal event in downtown Claremore hosted by the Downtown Claremore Merchant Association and Claremore Main Street. Both organizations strive to improve downtown Claremore and reignite the area as the social core of the community.
Upcoming dates for Food Truck Thursday are Downtown Fall Festival on September 27 and Downtown Halloween Haunt October 25.
Food Truck Thursday was named the 2018 Best Premier Special Event Over 1,000 Attendees by the Oklahoma Main Street Center.
Food Truck Thursday is made possible thanks to its community support and sponsors, including Season Signature Sponsor Midtown Rentals and numerous major and supporting sponsors.