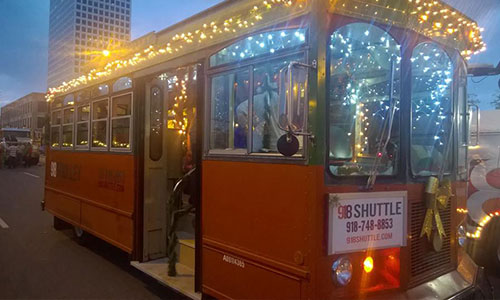 Shopping local has never been easier this holiday season as shoppers can travel throughout Claremore on a free Holiday Trolley on Saturdays in December.
Claremore's Holiday Trolley was announced by West Bend Winterland as a way to encourage both shopping local and attending the activities at Winterland.
"We are thrilled to have the Holiday Trolley this year," said Jessica Jackson, director of Claremore Main Street. "It will just make the whole Christmas experience better in Claremore – where you can shop, dine and enjoy Winterland seamlessly and without the hassle of a car."
The Trolley will leave from the grounds of the Claremore Expo Center and make continuous loops to several trolley stops, including Ne-Mar Shopping Center and two stops in downtown Claremore – one on Missouri and the other in the Claremore Daily Progress Parking Lot. All trolley stops will have signage to make it easier to spot for pick-ups and drop-offs.
The Trolley will run from noon until 8 p.m. on Dec. 1, Dec. 8, Dec. 15 and Dec. 21. The complimentary service is made possible by West Bend Winterland, Claremore Main Street, the Claremore Chamber of Commerce and the Downtown Claremore Merchant Association.
"Shoppers can ride as often as they like, or make several trips back to their vehicle at the Expo Center in case they need to drop off bags," said Tanya Andrews, director of the Claremore Expo Center. "This is a great way to promote Shop Claremore, Shop Local and encourage residents and visitors to spend money in town. It's a great service provided by our partners."
Many of the merchants in historic downtown will remain open until 7 p.m. or later, and folks can always grab a great meal or libations while they are out and about.
"The merchants are excited to participate in West Bend Winterland and are glad to partner in the Holiday Trolley, which will provide shoppers a convenience we have not had in Claremore before," said Sheila Giannelli, president of the Downtown Claremore Merchant Association.
A full schedule of the Holiday Trolley and West Bend Winterland can be found online here or by calling 918-342-5357.