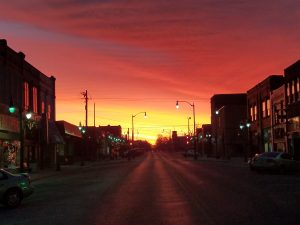 Claremore Main Street will host a free workshop focusing on historic tax credits for downtown rehabilitation in Claremore on Jan. 19 in conjunction with the State Historic Preservation Office (SHPO).
The workshop brings the important information from the State Office to Claremore as a service to current building and business owners as well as future developers — saving a trip to Oklahoma City.
The seminar begins at 9 a.m. on Jan. 19 at Northeast Technology Center, 1901 State Highway 88. While it is geared toward current building owners in the historic district, it is free and open to the public. Guests should RSVP by registering online here or calling Main Street at 918-341-5881.
"We hope people really make use of this workshop. The information the State Historic Preservation Office has to present helps make sense of a complicated and often misunderstood process," said Jessica Jackson, Claremore Main Street Executive Director.
In the fall, the National Parks Service listed downtown Claremore on the National Register of Historic Places because of its historic significance in our state, county and city. [Get more details here.]
As a historic district, downtown Claremore can expect increased traffic and tourism and raised property values. Additionally, some building owners may qualify for 40 percent tax credits for rehabilitation and restoration.
SHPO's Jennifer Bailey, the tax program coordinator, will discuss those historic tax credits, the Secretary of the Interior's Standards for Rehabilitation to qualify for the tax credits and the application process involved at the Claremore workshop.
"Jennifer does a great job of breaking down the process in an easy-to-understand way," Jackson said. "This is the perfect opportunity to learn more for anyone interested in current or future investment into downtown Claremore."
The historic district includes the area along Will Rogers Boulevard from Lynn Riggs Boulevard to Muskogee Avenue, and from the alley between Will Rogers and Patti Page boulevards to 4th Street. The period of significance is from 1890 to 1955.