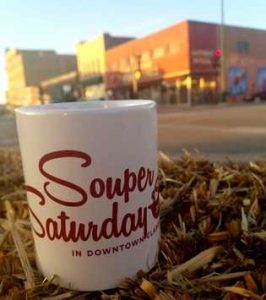 Get warm this winter with downtown's inaugural Souper Saturday, a soup tasting and shopping event in the heart of Claremore.
Hosted on the first Saturday of the year, 14 downtown Claremore stores and businesses are cooking up 15 unique soups or chili for attendees, who pay a small fee of $7 for their tasting kit and the ability to feast.
"The merchants are excited to start a new tradition downtown for the people of Claremore," said Jeannie Smith, owner of The Grapevine, 404 W. Will Rogers Blvd. "We hope everyone has a chance to join us and help make this first year's event a success."
Souper Saturday will run from 11 a.m. to 2 p.m. on Jan. 7. Tasting kits are limited and include a specialty Souper Saturday mug, a menu and ballot to navigate the event and vote for your favorites and a wrist band.
The mug and wrist band give attendees the option to sample the more than 15 soups from the stores and businesses in downtown Claremore.
Additionally, guests are encouraged to vote for their favorite soups. The business with the most votes will earn bragging rights on the street and a roving trophy to keep until next year.
"I really want to encourage tasters to stop by my store, so I can show them where I'm planning to put my trophy," Smith said with a laugh.
Participating businesses are The Cozy Cottage (Broccoli Cheddar Cheese Soup), The Cranberry Merchant (Spicy White Chili), Crystal Pistols Boutique/Mom & Pops Ceramic Shoppe (Creamy Tortellini Soup), Dorothy's Flowers (Taco Soup), The Grapevine (Chicken Noodle Soup), The Haberdashery (Broccoli Cheese Soup, Chili), Homeward Bound (Mom's 7 Can Soup), Hudson-Metcalf Antique Mall (White Bean Soup), LoliPop: A Sweet Boutique (Potato Soup), moreClaremore.com (Pumpkin Chili), Rejoice! (Tamale Soup), Rhapsody Boutique & Spa (Enchilada Soup, Corn Chowder), Vintique Charm & Boutique (Zuppa Toscana Soup) and Willow Tree Mall (Potato Soup, Chili).
"The variety we have offers something for every soup lover out there," said Sheila Giannelli, owner of Vintique Charm & Boutique, 512 W. Will Rogers Blvd. "Our soup is my husband's family's recipe, coming to Claremore straight from Italy."
Tasting kits are available for advance purchase on Jan. 6 at the Claremore Main Street office, 419 W. Will Rogers Blvd., from 9 a.m. to 4 p.m.
Kits are also available on the day of the event starting at 10 a.m. at The Cozy Cottage, 514 W. Will Rogers Blvd., and Rhapsody Boutique & Spa, 318 W. Will Rogers Blvd.
Souper Saturday is a new event by the Downtown Claremore Merchants Group. It is being held in conjunction with 1st Saturday Downtown, a monthly downtown-wide sale.
For more information, call Claremore Main Street at 918-341-5881 or email mainstreet@claremore.org.