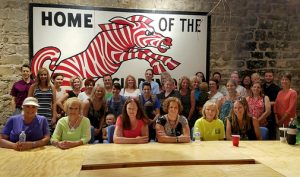 ​Every other month, a store in downtown Claremore is mobbed – mobbed by a group of eager shoppers ready to spend $20.
The "mobbing" is part of Claremore Main Street's bimonthly Cash Mob, where a collection of local supporters assemble for a small gathering prior to going out and shopping at a downtown store chosen at random the night of the event.
Shoppers took over LoliPop: A Sweet Boutique, 518 W. Will Rogers Blvd., earlier this month and added more than $1,000 into the local economy in about 45 minutes. The mob was sponsored by Melton Sales of Claremore.
As part of a pay-it-forward aspect to the Cash Mob, 10 percent of the proceeds from the night were donated to the Wild Heart Ranch, the nonprofit chosen by the mobbers on the night of the Cash Mob.
"I'm grateful my boutique was selected for Cash Mob in August. It was so much fun to see the shoppers fill my store and take home goodies," said Loretta Price, owner of LoliPop. "I'm also glad to support Wild Heart Ranch because of all the great work they do for animals. They are one of my personal favorite nonprofits in Rogers County."
Wild Heart is a wildlife rescue and rehabilitation center that takes in more than 2,500 injured or orphaned wild animals annually, rehabilitates them and releases them back into the wild. The ranch operates solely on donations.
"In the fall, it's hard to get donations online so this will help carry us through the season," said Daniel Hardt, head volunteer at Wild Heart Ranch. "Right now, we are working on a small flight enclosure where we will have flight strengthening for owls and hawks."
Participants in the Cash Mob agree to attend every other month and spend at minimum $20 at the store chosen at random the night of the event. The goal is to encourage shopping local and the downtown businesses' success and to support local nonprofits.
Cash Mob is every other month on the first Tuesday of the month. Pre-registration is not required but encouraged. Register online here.
The next Cash Mob is scheduled for Oct. 4. Participants are invited to the pre-mob gathering at North Block Common, 115 N. Missouri Ave., between 4:30-5:30 p.m. The selected store will be drawn at 5:30 p.m. MoreClaremore.com is the mob's host.