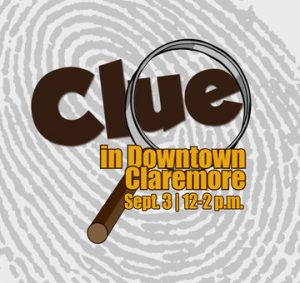 Downtown Claremore is offering another opportunity for local residents to come out and solve the "Case of the Missing Cupcakes" after this week's Food Truck Thursday was rained out.
A microburst storm poured down on downtown Claremore on Thursday right as Food Truck Thursday: Clue in Downtown Claremore was kicking off, and while a few quick detectives cracked the Case of the Missing Cupcakes – a bandit took off with the goodies again!
So, on 1st Saturday Downtown, a monthly downtown-wide sale, detectives must once again gather to help solve the mystery.
Beginning at noon Sept. 3, the best and the brightest can grab their Clue game sheet at the Claremore Main Street office, 419 W. Will Rogers Blvd., and begin their journey. The entire game, which is good for folks of all ages and completely free to play, should take about a half hour.
​Each step along the way will bring detectives closer to figuring out "whodunit" and will earn them a ticket to win a gift basket valued at $500. Up to eight tickets can be earned playing the free game.
Those clever, brave investigators who dropped their tickets into the Gold Box on Thursday night should keep those tickets as they are still entered to win. They are also welcome to come back on Sept. 3 to go on another track to earn more tickets.
Tickets can also be obtained by dressing as your favorite character or weapon from the game Clue, and with every $10 spent at a participating store.
The gift basket drawing will be at 2 p.m. Sept. 3. The winning number will be posted on the Claremore Main Street Facebook page and website, www.downtownclaremore.org.
The winner will have until 3 p.m. Thursday, Sept. 8, to bring their ticket to the Main Street office to claim their prize. If no one claims it in time, a second number will be drawn.