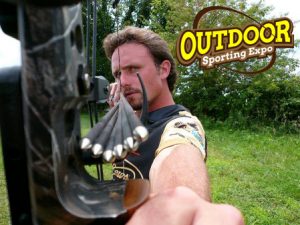 Outdoor enthusiasts will once again have a place to meet their favorite celebrities, participate in competitions and activities and see a variety of booths sporting all things outdoors as the third annual Outdoor Sporting Expo comes back to Claremore Expo Center on March 12-13.
After a successful second year, Outdoor Sporting Expo is back with even more excitement, including seminars, shopping, bass tub demonstrations, archery competitions, celebrity appearances and more.
A variety of booths featuring hunting, fishing, travel and an assortment of other outdoor-related vendors will pack the Claremore Expo Center's Expo Hall and Indoor Arena for two days, giving the biggest outdoor fans a chance to explore things that will make their outdoor adventures better than ever.
​
One of the biggest draws to Outdoor Sporting Expo is the celebrity lineup, which includes professional archer Randy Oitker from the Outdoor Channel and Guinness World Record holder. Oitker's appearance is presented by Bill's Sporting Goods.
Other celebrities are bassmaster angler Terry Butcher, bow hunter and outdoor writer Eddie Claypool, Lincoln Tapp, teenage hunter from YoungWild.TV, champion noodlers Colby & Terry Morrow and crappie expert Dale York.
Attendees can also enjoy buck scoring by Jonti Aldrich, bass tub demos with Chuck Deveraux and encore seminars with America's favorite whitetail deer hunter Roger Raglin.
New to the Outdoor Sporting Expo is an adult and youth 3D archery competition. Children can experience archery fun of their own with the hands-on Right On Target -Archery in Schools Program, as well as participate in a catch-and-release fishing pond and sling shots among others.
Admission is $10 per adult with a discounted price of $6 for veterans, seniors 65 and older and youth. Children 10 years old and younger get into the show for free with an adult. Families who attend Sunday will enjoy the half-price Family Day promotion.
Show hours are 9 a.m. to 8 p.m. Saturday, and 10 a.m. to 5 p.m. Sunday.
Outdoor Sporting Expo is sponsored by Hillcrest Hospital Claremore, Grand River Dam Authority, Tulsa RV Sales & Services, Suburban Chevrolet, Nabatak Outdoors, RCB Bank, Bill's Sporting Goods and Bennett's Route 66 Pharmacy.
The Expo is hosted by Claremore Main Street, Claremore Chamber of Commerce and Claremore Expo Center.
Vendor booths are still available. For more information, visit the show's website.