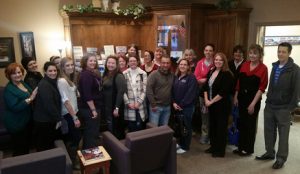 A "mob" of local supporters converged in downtown Claremore's Cozy Cottage, 514 W. Will Rogers Blvd., Tuesday night, spending more than $700 at the store.
The group shopped en masse as part of the Claremore Main Street's bimonthly Cash Mob. Ten percent of the proceeds from that night will be donated to Rogers County Youth Services, the nonprofit chosen by mobbers.
"It is always great to see everyone during the night of Cash Mob helping to support our downtown merchants and keeping the business local," said Kathy Glover, owner of Cozy Cottage.
Participants in the Cash Mob agree to attend every other month and spend at minimum $20 at the store chosen at random the night of the event. The goal is to encourage shopping local and the downtown businesses' success and to support local non-profits.
"I am so grateful to be in a community where people are investing in the lives of our children and families. It means a lot to me," said Steven Blahut, executive director of RCYS. "I know the challenges the businesses are face these days and the sacrifices they're making regardless of those challenges."
The Spring Cash Mob, is scheduled for 5:30 p.m. April 5. The final Cash Mob of the season will be the evening of June 7. To participate in the final two, sign up here.