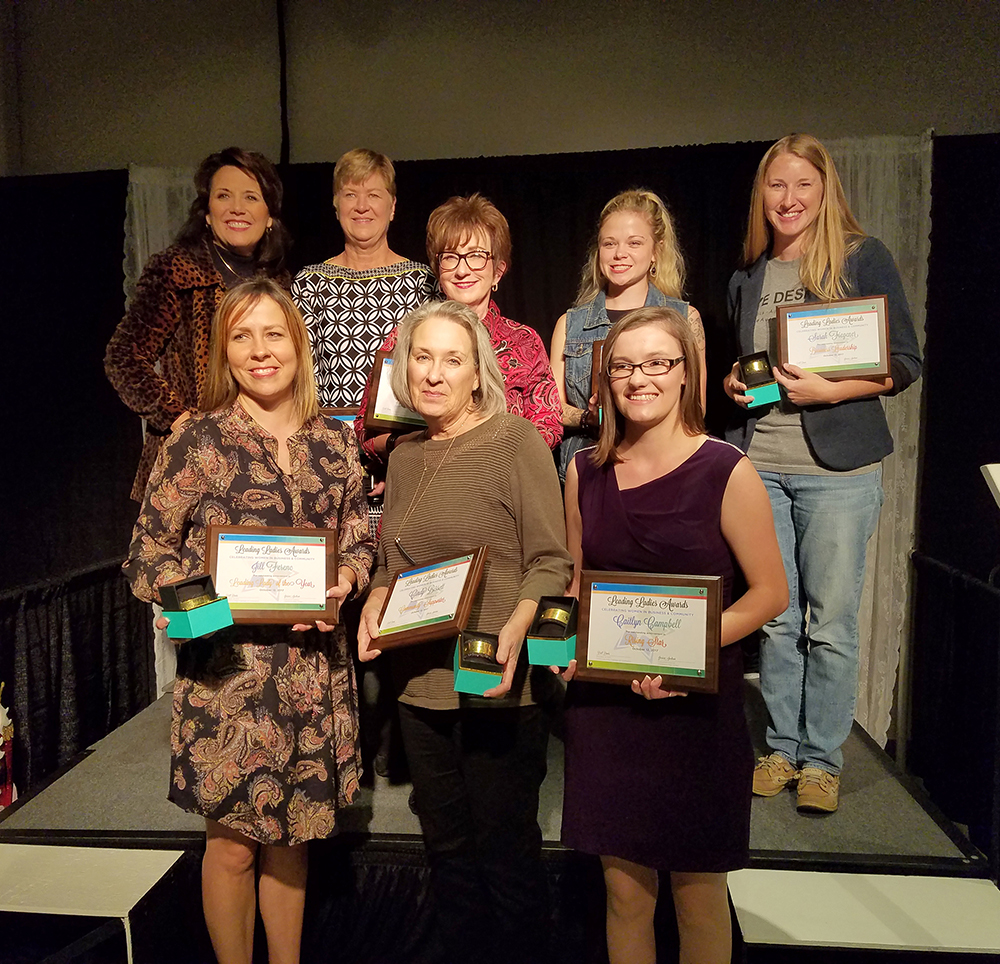 Seven Claremore women were honored with the title Leading Lady when they were recipients of the third annual Leading Ladies Awards, presented this year at the Leading Ladies Expo by News on 6's LeAnne Taylor earlier this month.
The women were: Rising Star, Caitlyn Campbell; Leader in Health, Dava Baldridge; Behind the Scenes, Kim Prock; Community Supporter, Cindy Bissett; Nonprofit Leadership, Lisa Saylor; Business Leadership, Sarah Fiegener; and Leading Lady of the Year, Jill Ferenc.
Each woman was honored with a special plaque and a custom Rustic Cuff with the words "Leading Lady" on it.
The awards were presented by KOTV News on 6's LeAnne Taylor, a local news anchor and breast cancer survivor. Prior to the ceremony, Taylor gave a brief talk about her three-decade history as a news anchor in Tulsa.
"It was an honor to have LeAnne Taylor present the awards this year," said Jessica Jackson, director of Claremore Main Street. "All our Leading Ladies were incredibly deserving. We were pleased with the quality of nominations we received."
The Leading Ladies Expo was held on Oct. 12 at the Claremore Conference Center. It featured shopping, massages, hors d'oeuvres from local restaurants, wine samples, a health seminar by Utica Park Clinic and our presenting sponsor Hillcrest Hospital, a selfie station, hand massages and a lot of great door prizes in addition to the awards.
The Expo and awards are hosted annually by the Claremore Chamber of Commerce and Claremore Main Street. An out-of-town panel judged the nominations.
Major sponsors of this year's event were A&B Bail Bonds, Autumn Wood, BancFirst, Carol's Place Hair & Nail Salon, Northeast Tech, The Pink House, RCB Bank, Tulsa Federal Credit Union and Wallace for Life. Media partner was Values Magazine.
The Chamber and Main Street are both nonprofit organizations designed to better improve the quality of life in Rogers County and enhance business success in the area.
Rising Star: Caitlyn Campbell, RSU Student and Volunteers for Youth volunteer
Caitlyn Campbell is on her way to big things in life.
Currently a Rogers State University sophomore, Campbell is committed to staying involved in the community in addition to her full-time student status as a business administration major. She is active on campus with the RSU Young Professionals and the Honors Program.
Additionally, Campbell gives her time to the PAL Program at Volunteers for Youth, where she has been engaged in the organization's U-Turn Academy as a tutor and has volunteered to help at their events.
"Her boundless energy and heart for service demonstrate the qualities of a rising star in our Claremore community," one nomination said.
Leader in Health: Dava Baldridge, Chief Nursing Officer at Hillcrest Claremore
Dava Baldridge, like many other leading ladies, puts others before herself.
She has dedicated her life to improving the health of others as the Chief Nursing Officer and Operating Officer at Hillcrest Claremore Hospital.
She is known to go above and beyond with nursing care for the patients in Claremore, and is always around to lend a hand to a patient's family in need. She has served in Claremore for more than two decades and is involved in several state and national associations for nursing.
The care Baldridge and others at the hospital give the patients earned Hillcrest Claremore a position among the top 10 percent in the nation for patient safety. In 2012, she was named the Ardent CNO of the Year and three years previous, she received the Community Health Systems CNO of the Year.
Behind the Scenes: Kim Prock, Thrift Harbor District Manager
Kim Prock exemplifies her leadership skills by going above and beyond in her job duties to continue to improve her organization.
As now the District Manager for Thrift Harbor, Prock took on a new challenge – a new life purpose – when she decided to help Hope Harbor's Children's Home open their first thrift store in 2011. Having now opened three stores, she has brought experience in retail sales, customer relations and volunteer recruitment.
Always leading others, Prock also serves as a mentor to many other women in the community to seek their greater potential and take pride in the efforts.
"She is a light to the community," one nomination said. "Her presence alone exemplifies compassion with confidence … Kim accomplishes everything she puts her mind to, and we have all the confidence that she will continue to be the real driving force behind the great success of Thrift Harbor."
Community Supporter: Cindy Bissett, Claremore Main Street retired Director and volunteer, Chamber of Commerce volunteer
Leadership is action – not simply a title or position, which is something Cindy Bissett takes to heart.
After more than 10 years leading the efforts in downtown revitalization, Bissett's passion and community spirit is reflected in the thriving and bustling district Claremore's downtown has become once again.
She used her conviction to inspire others, leading Board members, volunteers and others in Main Street's vision. In addition to her more-than-full-time workload, Cindy would volunteer for other organizations and at other events.
Now retired, Cindy's still working tirelessly at community events.
"Her heart continues to reflect someone who has a spirit of community," one nomination said. "Cindy is consistently involved: working tirelessly at community events, leading by example to those who come in contact with her gregarious nature and joyful attitude."
Nonprofit Leadership: Lisa Saylor, Mercy Chefs Director
Lisa Saylor shows herself to be selfless, giving up comforts to help those in need.
She is the Managing Chef for Mercy Chefs, an emergency relief organization that helps provide permanent kitchens and water purification systems for communities affected by disaster. She travels to areas in need and serves food those who are stricken with tragedy.
She and her husband have even re-purposed a bus to save on travel expenses to continue her calling. After Hurricane Harvey hit the Texas coast, and after Irma devastated Florida, Lisa was there with helping after helping of compassion, love and service.
"She deserves this award because she would do anything for anyone, Oklahoma or elsewhere," a nomination said.
Truly showcasing her selfless attitude, Saylor was unable to attend the Leading Ladies Awards as she had been called off to serve in California for wildfire relief.
Business Leadership – Sarah Fiegener, Rye Design Owner and Musician's Haven Director
Sarah Fiegener is an engineer by trade and a musician by heart.
In addition to serving the community through a nonprofit she runs with her husband called Musician's Haven, Fiegener is the owner of Rye Design, a custom automation equipment manufacturer in Oklahoma.  Her innovative approaches are used across the nation to improve efficiency and safety in manufacturing.
Despite her talents being sought after nationwide, Fiegener dedicates her free time to her home in Claremore. She volunteers at West Bend Green, Bluegrass & Chili Festival, ZipperQ and with the Claremore Collective fundraisers while also supporting local musical artists with Musicians Haven.
"Prior to her efforts behind Musicians Haven and their community music center, Claremore did not have nearly the cultural opportunities she has led," one nomination said, "Sarah's many efforts show her deep love for Claremore, while leading with grace."
Leading Lady of the Year – Jill Ferenc, City Planner
The Leading Lady of the Year is someone who exemplifies all the qualities of a Leading Lady, both in the workplace and outside of it. Jill Ferenc received a number of nomination from people she works for, people who work for her, colleagues and community members. She is clearly an asset to many.
Ferenc is the City Planner in Claremore, working often behind the scenes to improve the community she calls home. She treats everyone the same – whether it's a multimillion dollar developer or an average citizen with a backyard project – Jill gives them her full devotion
"She can make you feel that you are the most important person around because she takes the time to really listen to our needs," one nomination said.
She's involved in numerous organizations in addition to her full-time job and role as a mother of a toddler, including Claremore Main Street, Grand Gateway, Claremore Collective, Rogers County Transportation Organization Policy Board and Oklahoma Chapter of the American Planning Association, of which she's secretary.
"She lead from the front of the pack but pushes her employees to receive the recognition," another nomination said. "Jill is the type of leader who does everything for others and wants nothing in return."
"She has a can-do attitude and is tenacious in her dedication to our City," another nomination letter stated. "She is a true leader, a true lady, and a great friend, to both myself and this City."