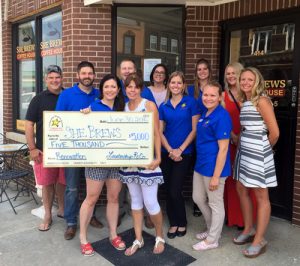 One of Claremore's favorite lunch spots is getting the opportunity to grow and serve more of Rogers County thanks to a donation by Leadership Rogers County.
She Brews Coffee House, 414 W. Will Rogers Blvd., is in the process of their remodel, which will include dining for an additional 30 people and a full-service kitchen.
"We had this vision but Leadership Rogers County became like the fuel behind the vision to make it happen. We honestly could not have done it without their assistance," said Rhonda Bear, She Brews' owner. "I'm very grateful."
Each year, the Leadership Rogers County class raises money with an annual golf tournament to benefit a local nonprofit or cause. The 2016 class unanimously voted to help She Brew's vision to expand.
"Our class felt that our class project contributing to She Brews was a no-brainer," said Crystal Campbell, the 2016 Class Leader. "The story of She Brews leads a great example for so many in that together we can make effective changes in the lives around us."
"Servant leadership is a core value of any great leader and so many of us felt that common bond in Rhonda Bear," she added.
She Brews isn't your traditional coffee shop. It's a ministry that gives previous incarcerated women a chance to get back on their feet and change the path of their lives. Bear also works to reunite the women with their children.
Her program boasts an 85 percent success rate. In October, Bear was named the Leading Lady of the Year in Claremore.
"With the growth, we can increase the number of employees," Bear said. "They love to tell their stories. What's going to be neat is that the walls will tell their stories, too."
The front of the She Brews will have a coffee shop feel, with a barista station and couches. Diners will go farther back to enjoy a traditional dining area. On the walls will be photos of women saved – and their children — through Bear's mission and a looping video with their stories.
The glass tabletops were donated by Oklahoma Glass & Mirror in Claremore and the TV to display the video was donated by Destiny Life.
Farther back still will be a full kitchen, allowing She Brews to make their staple "She Bread" and their traditional casseroles and dishes on site.
"To be able to support a local business as well as the lives of Oklahoma women and children meant so much to so many in our Leadership class," Campbell said. "The smiles of the ladies and the heart of Rhonda make it an easy place to love going to and supporting."
Bear said she hopes to see She Brews reopen in mid-July.
Leadership Rogers County is a program designed to develop the talent and broaden the perspective of future or present community leaders. The program provides practical information, builds networking circles and provides opportunities to serve the community.
"It was great to go through the journey of Leadership Rogers County this last year," Campbell said. "As a class, we not only got to see more of our community but we made great friendships as well."
To apply for the 2017 Leadership Rogers County Class or to get more information about the program, visit their website.