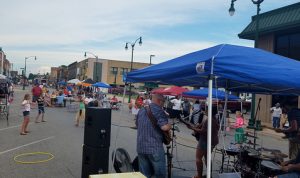 Claremore residents can test their ring toss skills this Thursday during this month's Food Truck Thursday: Downtown Carnival on July 28.
The monthly event, set in downtown Claremore from 6-9 p.m., features live music from Brent Giddens Band, a free Kids Zone by First United Methodist Church, a chance to dunk local celebrities in a dunk tank, more than 10 food trucks and late-night shopping.
"With hundreds of people flocking downtown to enjoy our district each month, the Food Truck Thursday is one of my favorite events," said Jessica Jackson, director of Claremore Main Street. "We have a little bit of something for everyone with great shopping, food, kids activities and local musicians."
​The Kids Zone is completely free to attendees, but parents are asked to watch their children while they enjoy the bounce houses, sand castle stations, face painting and carnival games.
In addition to the Kids Zone on the 300 block of W. Will Rogers Blvd., near the band on the other end of downtown will be a balloon animal artist handing out free creations and a dunk tank featuring local faces.
For $5, guests will have three opportunities to dunk State Farm Agent Grant Gingerich, City Councilor Jeff Godwin, Rogers County Sheriff's Office's Erica Brown and Joel Smith, moreClaremore.com's Ashley Orf or compete in the Bedlam Battle – Dr. Steve Elgeston representing the University of Oklahoma or Brent Youngs representing Oklahoma State University.
"The dunk tank is a fun addition to our event and the carnival theme," Jackson said. "We found your neighbors and community figures who were willing to just have fun with us at this event and put themselves in the hot seat."
Proceeds from the dunk tank will go to improving subsequent Food Truck Thursdays and beautification of downtown Claremore.
Pokémon Go fans can make use of the five Pokéstops in the district as "lures" will be set up all three hours to help gamers nab some rare Pokémon during the event.
"We see people walking the streets all day and night in search of Pokémon, and we are excited to add in something for the gamers in our event this Thursday," said Carol Thibodeau, owner of Rhapsody Boutique & Spa, 106 S. Cherokee, and Food Truck Thursday committee chairwoman.
Boarding House Books, 300 W. Will Rogers Blvd., will feature a book signing by local authors Jim Laughter, Tom Yarbrough, Jan Monk, Tammy Mullins and Patricia Harsley.
Several food trucks are scheduled to attend, giving guests a variety of cuisine and desserts. Food trucks include Meltdown Gourmet Grilled Cheese, Dorothy's Wiches, MooChewSooey BBQ, Taqueria El Jarocho, Papos Latin/American Cafe, Curbside Comfort, Wild Al's and Jen's Java.
Additionally, the final Civic Concert will take place in Gazebo Park on Thursday evening. The Claremore Museum of History will be open and will hand out free ice cream sundaes to the first 100 people who show up after 7 p.m.
Many of the downtown stores, which will stay open until 9 p.m., will feature discounts throughout the evening. LoliPop: A Sweet Boutique, 518 W. Will Rogers Blvd., will hand out free cotton candy to the first 100 guests.
There are three other Food Truck Thursday's remaining this season. Rogers County residents can enjoy CLUE in Downtown Claremore on Aug. 25, I Art Claremore – Downtown Chalk Walk on Sept. 29 and Downtown Zombie Infestation on Oct. 27.
The monthly event is hosted by the Downtown Merchants Group and Claremore Main Street, a nonprofit organization dedicated to the revitalization of the downtown district and reigniting the area as the social core of our community.
Check out the event on Facebook!
Dunk Tank Schedule
6-6:25 p.m. – State Farm's Grant Gingrich
6:25-6:50 p.m. – Councilor Jeff Godwin
6:50-7:15 p.m. – BEDLAM BATTLE
Brent Youngs (Orange Power!)
7:15-7:40 p.m. – BEDLAM BATTLE
Dr. Steve Elgeston (Boomer Sooner!)
7:40-8:05 p.m. – RC Sheriff's Office's Erica Brown
8:05-8:30 p.m. – RC Sheriff's Office's Joel Smith
8:30-8:55 p.m. – moreClaremore's Ashley Orf