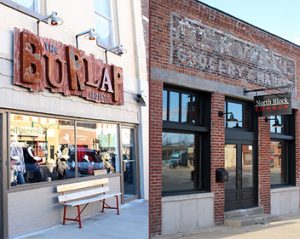 Two downtown Claremore businesses are in the Top 3 for a total of four categories for Oklahoma Main Street Center's annual statewide awards, the Center announced this week.
The Burlap Closet is a finalist for Best Building/Business Branding as well as Best Visual Merchandising while North Block Common was announced as a finalist for Best Façade Rehabilitation Under $10,000 and Best Interior Design Project.
The winners will be announced at the 27th annual Main Street Awards Banquet on May 3 in Oklahoma City. More than 250 nominations were submitted in all the categories across the state.
"We are honored to have two great businesses represented and to have four good chances to bring home a first-place prize," said Jessica Jackson, Claremore Main Street Director. "All of our businesses are special, and it's wonderful to see these two honored by the state."
The Best Visual Merchandising category features businesses that have a unique way of showcasing their items. At The Burlap Closet, 405 W. Will Rogers Blvd., shoppers will find clothes and accessories hanging for a chair on the wall or inside an antique hutch, purchased from a neighboring downtown store.
The store maintains a rustic-chic look throughout with wood pallets on the wall and modern furniture on the ground for visitors to rest.
The inside mirrors the outside, which is why it is no surprise the store was also recognized for Best Building/Business Branding, which focuses on exterior signage and displays.
Their sign features an eclectic mix of non-traditional materials such as reclaimed lumber, oversized rusted tin letters and industrial lighting, which provide a visual identity unlike any other.
Additionally, owner Katrina Pope remodeled the exterior single-pitch roofline faced and updated the exterior siding to enhance the entire visual appeal on the outside.
Façade rehabilitation downtown is also why North Block Common, 115 N. Missouri Ave., is seeing state recognition for Best Façade Rehabilitation Under $10,000. Brother and sister owners Robert Melton and Amy Gordon purchased the building they later learned was owned by their great-grandfather, George Melton.
The total renovation included removing the white paint from the brick and restoring an exterior ghost sign that was discovered. The clean look of the building preserves its historic significance while updating to a modern feel.
The inside was completely gutted and re-envisioned by the owners, who turned the 3,500 square-foot building into a co-working and meeting space and a state finalist for Best Interior Design Project. North Block Common is also home to moreClaremore.com.
The interior design features a mix of the old and the new, including a five-foot canvas print of George Melton from the 1940s juxtaposed with a lively purple couch and mid-century modern leather chairs.
Further, old pieces of wood were converted to tables and wall art while antique Claremore posters were used as additional decoration.