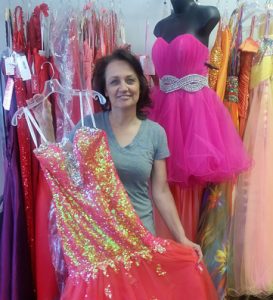 With prom and bridal season right around the corner, ladies in the area can rejoice in the fact that they can shop local for that perfect dress to complement their special night.
Red Hot Designs, 103 N. Cherokee Ave., is now open in downtown Claremore and owner Brenda Bryant said making sure her customers leave with their ideal gown is the key.
"I like to pick up the lines that not everybody carries because when these girls are on the hunt for a prom dress, the most important thing is helping them find the dress that they love and nobody else is going to have," she said.
The store has a dress registry, so if a girl purchases a prom dress and registers it, Brenda will not sell that same dress to anyone else going to the same prom.
​"I love the thrill of helping them find the dress," she said. "When they come out of the dressing room … I'm watching the facial expression because those eyes and the corner of the mouth tell everything."
Brenda doesn't work on commission and is not going to sell a dress just to make a quick buck. It's about finding the right dress.
"We try to make it fun," she said. "I'm not going to push somebody to purchase a dress that they aren't loving."
In addition to prom dresses, the store carries wedding dresses, bridesmaid dresses, flower girl and ring barrier attire and jewelry as well has tuxedo rental – it's truly a one-stop shop.
Red Hot Designs does not require an appointment during regular store hours but will open after hours by appointment only.
When she was younger, Brenda said she enjoyed sketching dresses and even designed and sewed her own wedding gown. A few years later, she made the bridesmaid dresses for her brother's wedding.
She started selling clothes in festivals and shows and eventually began a storefront in Collinsville in 2011, selling more casual clothing. When a nearby dress shop closed, she took the opportunity to purchase the inventory.
"And I've just had fun ever since," she said.
After three and a half years in Collinsville, she moved her store to Tulsa for about a year. There, she met a friend who helped lead her to downtown Claremore – Sheila Giannelli, owner of Vintique Charm, 323 W. Will Rogers Blvd.
Vintique Charm's second location was right next door to Red Hot Designs in Tulsa, so when the building at 103 N. Cherokee came available, Sheila mentioned it to her friend.
"I wanted to get back up to the smaller towns, up north," Brenda explained. "I love it back up toward the smaller towns because it's more personal, you get to visit with them a little more."
Red Hot Designs is open Monday through Friday from 10 a.m. to 6 p.m. and Saturday from 10 a.m. to 4 p.m.
​
Follow Red Hot Designs on Facebook!