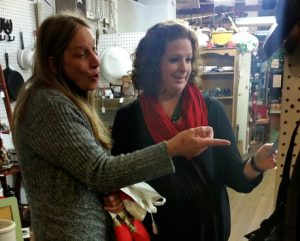 Rogers County residents who love an excuse to shop local will enjoy the added benefits of being a part of a bimonthly shopping activity in the heart of Claremore.
The downtown Claremore Cash Mob has been a huge hit since it began a few years ago, offering a small group of residents an opportunity to "mob" a downtown store every other month, shopping and paying it forward by supporting a local nonprofit.
But it gets even better for Cash Mobbers this year.
The Claremore Main Street Promotions Committee will be rolling out new VIP perks for all Cash Mob shoppers at each of the Cash Mobs this season, which begins Aug. 9 and continues through June of 2017.
"This season of Cash Mob will be even better than in years past because we are adding to the activity by giving mobbers special benefits before we shop," said Debbie Butler, Claremore Main Street Board of Directors president and Promotions Committee chairwoman. "We are excited for the best season of Cash Mob yet!"
What is it?
Participants in the bimonthly Cash Mob agree to spend at least $20 at a store, chosen at random the night of the event, and immediately descend upon the store to find their purchases.
Furthermore, shoppers get the opportunity to choose one local nonprofit to which 10 percent of the night's proceeds go.
In all, about 45 minutes of shopping results in roughly $1,000 in sales for a downtown store and benefits local sales tax revenue. Four nonprofits received financial assistance from the five Cash Mobs last season after one organization was selected two separate times.
"The Cash Mob is a great opportunity to give a little boost into the shopping in downtown Claremore every other month," said Jessica Jackson, Claremore Main Street executive director. "Not only does it help the store and the shoppers who get to go home with brand new items, but it also benefits the local economy, enhances sales tax revenue and assists a local nonprofit."
What's new this year?
Those participating will be treated to exclusive pre-mob gatherings, tours, tastings or services. Each month will be different, with a variety of locations and perks.
The gatherings will begin at 4:30 p.m. as a come-when-you-can type of event. The store drawing and official mob will begin at 5:30 p.m.
Additionally, participants who have signed in by 5:30 p.m. are entered to win a free Cash Mob that month.
To encourage a participant to attend each mob of the season, and/or send $20 or a friend in his/her place, those who attend all six Cash Mobs this season will be entered to win a gift basket valued at more than $120.
"We encourage everyone signed up to Cash Mob to attend each one or send their $20 with someone," Jackson said. "This is just an added incentive to help foster that consistency."
How do I get involved?
The first Mob of the season will kick off on Aug. 9 and is sponsored by Melton Sales of Claremore.
Guests can enjoy free snacks and games at the pre-mob gathering at North Block Common, 115 N. Missouri Ave., beginning at 4:30 p.m. Travis Peck will entertain the crowd with his acoustic guitar.
Dr. Brett Murray will be offering free chiropractic assessments between 4:30-5:30 p.m.
Attendees will be released from there to mob the store chosen promptly at 5:30 p.m.
"The first Mob of the season is much anticipated. We are excited to have Dr. Brent Murray attending and so thankful for the support by the sponsor, Melton Sales," Butler said.
Guests are asked to sign up prior, but registration isn't required. Sign up here!